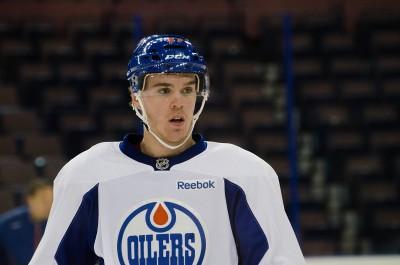 The Washington Capitals clinched a playoff berth Tuesday night, which confirmed two things. First, this Washington team has played unbelievable hockey all season long. Second, and more importantly, the regular season is coming to a close. As the season winds down, the discussion of award winners ramps up.
So far this year, some players have established themselves as obvious choices to take home hardware. Chicago Blackhawks forward Patrick Kane has 90 points in 71 games played. Dallas Stars captain Jamie Benn is in second place with 77 points. Kane's 13-point lead this late in the year makes him a virtual lock to win the Art Ross Trophy as the league's top point-getter.
While other awards are without obvious winners, they do have three prominent nominees. The Frank J. Selke Trophy, awarded to "the forward who best excels in the defensive aspects of the game," will almost certainly be won by Patrice Bergeron of the Boston Bruins, who has won the past two years. It's also possible that Pavel Datsyuk of the Detroit Red Wings (a three-time winner from 2008 to 2010) or Jonathan Toews of the Chicago Blackhawks (winner in 2013) will win.
The most interesting award this year, though, will be the Calder Memorial Trophy, which is presented to the league's most outstanding rookie. This year's rookie class is one of the deepest the league has seen in recent years. It's so deep, in fact, that there are five players worthy of nomination, but only three nominees.
The two that missed the cut
Edmonton Oilers forward Connor McDavid (selected first overall in last year's Entry Draft) would likely be the Calder favorite if he did not suffer an injury very early in the season. The 19-year-old phenom missed 37 games due to a broken collarbone he suffered Nov. 3, 2015. However, he's been excellent while healthy this year, scoring 38 points in 36 games played. In fact, despite missing well over a month of gameplay, he is still sixth overall in rookie scoring. While he will not be nominated for Rookie of the Year, he has had a very successful season, despite battling injury and playing for one of the league's worst teams.
St. Louis Blues defenseman Colton Parayko has quietly put together an excellent rookie campaign. The 6-foot-6 blueliner leads all rookies with a plus-21 rating and has amassed 29 points through seven goals and 22 assists. The Blues as a team only have a plus-five goal differential, making his plus-21 rating even more impressive.
The nominees
The favorite to win the Calder has to be Chicago Blackhawks forward Artemi Panarin. He leads all rookies in scoring with 62 points and has developed instant chemistry with all his teammates on a Blackhawks team ready to defend their title. Some may credit Panarin's high point number as the byproduct of an excellent team. While playing alongside Kane obviously doesn't hurt, Panarin has played like a highlight reel machine this year. He is strong on the puck, skates with authority and is worthy of all the praise he receives.
Buffalo Sabres center and former Boston University Terrier Jack Eichel is second in rookie scoring and will likely be nominated for the award. He leads his club with 22 goals and has played a pivotal role on both Buffalo's power play and penalty kill. Many believe Eichel, a world-class talent, would have been selected first overall in most draft classes. Unfortunately for the Massachusetts native, he was in the same draft class as McDavid, whom many have compared to Sidney Crosby in terms of skill and potential. When all is said and done, Eichel and McDavid both will have had successful rookie campaigns.
The final candidate is Philadelphia Flyers defenseman Shayne Gostisbehere, who I believe will ultimately win the Calder Trophy. In the Union College star's 51 games played (around 15 fewer games played than others in consideration), he has amassed 39 points (16 goals and 23 assists), good for fifth in total rookie scoring. Gostisbehere made himself relevant during a 15-game point streak, a Flyers record for rookie defensemen.
Most importantly, Gostisbehere has five game-winning goals. Only Chicago's Panarin has more, and he's a forward who has played in 18 more games. It seems funny to say, but Gostisbehere may actually be the best 3-on-3 overtime player in NHL history. He is the only rookie in NHL history to score four overtime game-winners. Only Toews has more OT goals this year with five, and he has played in 19 more games.
Shayne Gostisbehere has made sports bearable again for the Philadelphia faithful, as the Flyers now find themselves in a playoff position following Wednesday night's victory in Chicago. Gostisbehere should become the first ever Flyer to receive the Calder Memorial Trophy at the NHL Awards ceremony this summer.