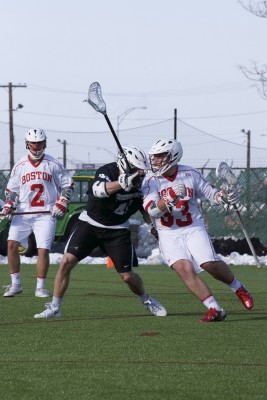 The No. 16 Boston University men's lacrosse team has every reason to be distracted, but its focus this week was singular, as a road contest against Bucknell University awaits Saturday afternoon.
For starters, junior faceoff specialist Sam Talkow was named to the Tewaaraton Watch List, which honors the best players in college lacrosse. There's also the weekly conference awards that Talkow, junior defenseman Dominick Calisto and junior goalkeeper Christian Carson-Banister brought home Monday. And that's not to mention that BU (6-1, 2-0 Patriot League) is coming off an 11-6 victory over Colgate University last weekend.
Despite all that, BU head coach Ryan Polley affirmed that his team knows what's at stake when the Bison (4-3, 1-2 Patriot League) play host. Bucknell may have dropped three of its last four games, but nothing will be handed to the Terriers.
"They're a great team, have a storied tradition and are 1-2 in the league, so we know this is a critical game for them," Polley said. "We're expecting their best effort, and we just have to continue to do what we've done well. We'll use that one-play-at-a-time mentality and get the next ground ball, get the next possession, get the next save and get the next defensive stop."
Quite uniquely, Bucknell employs a 10-man ride aimed at stopping a team's clearing game, and it's admittedly troubled BU in the past. When the Bison fell 11-9 last year at Nickerson Field, the Terriers completed seven of their 13 clears, and Polley said that sort of performance just won't cut it on Saturday.
"They're known for their 10-man ride, and they're excellent at it," Polley said. "They create more possessions for their offense by turning you over and getting the ball back. It's been a major focus for us and something we know has been an Achilles heel of ours."
Complicating Saturday's narrative even further will be midfielder Tommy O'Connor, attack Will Sands and attack Sean Doyle. The trio has combined for 42 goals and 30 assists, and is responsible for nearly 62 percent of the Bison's offensive output.
Polley also pointed out that Sands is a scoring threat at all times, O'Connor is a big body coming out of midfield and Doyle is a four-year starter with experience. So how does BU plan on limiting its conference foe's biggest threats?
"Just play our team defense and certainly we're going to rely on some of our best players to be playing at a high level," Polley said. "We don't really rely on one person defensively. A lot of times Calisto will start marking their best players, but with the slides, it switches up. It's really seven guys working as a unit."
A major determinant Saturday could also be BU's depth, which Polley in the past has highlighted as a key to his team's success. It's likely Bucknell freshman Christian Klipstein will start between the pipes, and he'll have to worry about more than freshman attack James Burr, sophomore attack Jack Wilson and junior midfielder Cal Dearth.
Eighteen different Terriers have scored this year, BU has reached double-digit scoring in five of its games and is scoring 10.14 goals a game. Intriguingly, the Bison allow 10.14 goals a game, so Saturday's affair has the potential for fireworks.
Nonetheless, as Polley preaches week in and week out, BU can only control its performance, and that's exactly what it's focused on all week.
"They have a ton of talent, they're extremely well coached and we're going to have to play a great game if we're going to walk away with the result we want," Polley said. "We'll worry about ourselves, worry about getting prepared and worry about taking care of the ball."