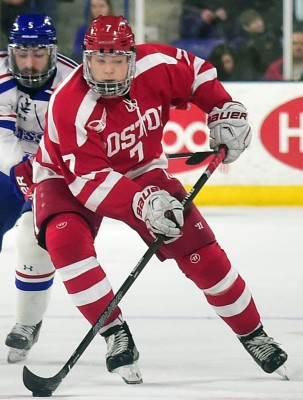 Senior assistant captain Danny O'Regan and senior captain Matt Grzelcyk of the Boston University men's hockey team earned Hockey East First Team All-Star honors at the Hockey East annual awards banquet Thursday.
So far in the 2015-16 season, O'Regan, the team's leading scorer, has posted 43 points in 38 games, including 28 in 22 conference appearances. O'Regan was previously named to the second team in 2014-15. Grzelcyk, who was also on the Hockey East First Team in 2014-15, has recorded 22 points on the year despite missing 12 games with injury. He had 16 points in his 17 conference games.
University of New Hampshire forward Andrew Poturalski, Boston College forward Ryan Fitzgerald, Providence College forward Mark Jankowski, Providence defenseman Jake Walman and BC goaltender Thatcher Demko were also selected for the first team.
BU senior forward Ahti Oksanen, who has 36 points this season and had 25 points in his 22 league games, was named an honorable mention.
The league also announced Wednesday that freshman center Jakob Forsbacka Karlsson and freshman defenseman Charlie McAvoy were awarded spots on the 2015-16 Hockey Pro Ambitions East All-Rookie Team.
Forsbacka Karlsson attributed part of his success this year to learning from his teammates.
"I think I've grown a lot [this season]," Forsbacka Karlsson said. "I've played in a lot of different situations, with a lot of good players, so it's been a good year … I've learned a lot from the players here, especially a lot of the older guys."
Forsbacka Karlsson has posted 29 points during the year, with 19 of those points coming during conference games, the third-best mark among all freshmen. McAvoy has a plus-11 rating with 24 points this season, including 12 points in league play.
McAvoy, who was a finalist for the league's Rookie of the Year, said that the award came as a bit of a surprise.
"My dad texted me," McAvoy said. "I didn't know that it was a thing … But to add on to the season we've had as a team, that's pretty cool to have that."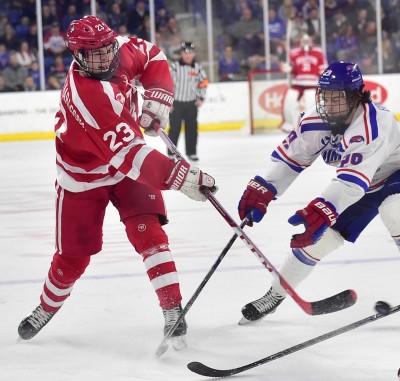 McAvoy also highlighted that he's one piece of a talented freshman class, deflecting praise somewhat.
"I think all the freshmen have been able to contribute," he said. "For some guys, it's different than others. I think that altogether, we have a lot of special players in this class. I think that we really help the team a lot."
BU has now had a player selected to the rookie team for the ninth year in a row. O'Regan and Grzelcyk were named to the team in 2012-13, while junior forward Robbie Baillargeon earned the honors after the 2013-14 season. The Terriers have had a league record of 40 freshmen on the All-Rookie team in program history.
BC defenseman Casey Fitzgerald, University of Notre Dame defenseman Bobby Nardella, University of Connecticut forward Max Letunov and BC forward Colin White were also on the rookie team. White was named the league's Rookie of the Year.
"It's an honor," Forsbacka Karlsson said. "There's a lot of great players, not only on our team, but in Hockey East."
The Hockey East Tournament continues Friday at TD Garden, with Providence and the University of Massachusetts Lowell playing in the first semifinal, followed by a game between Northeastern University and BC.
BU, while eliminated from the Hockey East Tournament on Saturday, awaits its NCAA Tournament seeding, which will be announced Sunday.