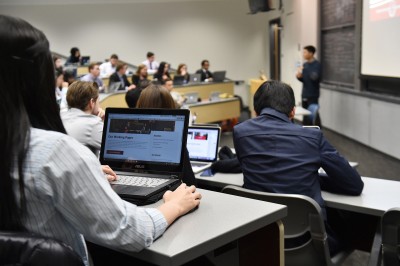 Slates BU Recharged, Clean Slate and NewBU announced their candidacy Monday for the Boston University Student Government Executive Board election, marking the beginning of an array of campaign activities.
Former Judicial Commissioner Louis Vitti is running as BU Recharged's presidential candidate alongside candidates Laura Davis, a sophomore in the College of Communication, as Vice President; Anai Sanchez, a junior in COM, as VP of Internal Affairs; and current Judicial Commissioner Justin Flynn, a junior in the Questrom School of Business, as VP of Finance.
"We will keep our ears close to the pulse of the student body so that we can work with its energy and harness it into tangible initiatives that will better Boston University," Vitti, a junior in Questrom, wrote in an email.
Clean Slate presidential candidate and junior in the College of Arts and Sciences Jacob Brewer is running with VP candidate and sophomore in the College of General Studies Sara Ann Kurkul; VP of IA candidate and CAS sophomore Jane Dimnwaobi; and VP of Finance candidate and CAS sophomore Hanaan Yazdi.
The slate aims to provide "a platform for the students at BU to have a greater say in the future of our university by changing the way our current student government is structured," noted in a statement posted on their Facebook page.
Current College of Engineering sophomore and Senator Nadia Asif is running as NewBU's presidential candidate, together with VP candidate Petar Ojdrovic, a sophomore in ENG; VP of IA candidate Rachel Feigelson, a sophomore in CGS; and VP of Finance candidate Atid Malka, a freshman in CAS.
"We will work to re-establish trust in our government by electing ethical officials who are dedicated to fiscal responsibility and are accountable to all of us here at BU," Feigelson, a former SG Senator and deputy chief of staff, wrote in an email.
The slates will campaign until March 27 and the voting period will last from March 28 until April 3, when the results will be announced. The "Slate Meet and Greet" Monday at the George Sherman Union Link Lounge will kick off the campaign. All slates will also be expected to participate in a two-hour-long debate Thursday, moderated by The Daily Free Press campus editor Sekar Krisnauli and university liaison Mina Corpuz.
"It's really important that candidates hit the ground hard and communicate what they're about from the get-go," said SG President Andrew Cho. "It's really about holding supporters and following up with them when voting weeks comes."
While Cho, a senior in CAS, said he could see mental health and cultural barriers on campus as topics of focus among this year's slates, the candidates will also push for more student interest in the election.
"The most important thing will be telling people they should be interested in elections because that's how they're represented," Cho said. "It will be more about the interests and the people behind those interests rather than specific policies like it's been in the past years."
After the impeachment of the SG Vice President of Finance and VP of Internal Affairs last semester, more students are expected to follow the election, Cho said.
"[The candidates] are going to step up their game for sure," Cho said. "Now, given the fact things have been so controversial and talked about, the average student is probably going to be more interested in what's happening because it's more relevant.
Jasmine Miller, the vice chair of rules for the Student Election Committee, the committee responsible for administering and maintaining the election, said she hopes this election will elicit a higher voter turnout.
"There will be a lot more eyes on the Student Government elections following the events of last semester," the senior in CAS said. "A lot of students who weren't tuned into Student Government before are going to participate in this election."
Several students said SG could do a better job connecting with students and do more to address mental health issues on campus.
Rachel Small, a sophomore in the Sargent College of Health and Rehabilitation Sciences, said she plans to participate in this year's election and would be interested if the candidates discussed mental health on campus.
"I want to read about the different candidates when I can," she said. "Mental health is an issue near and dear to my heart, and I think, institutionally, BU could do more for that."
Vanessa Sandra, a freshman in the Questrom, said she was not aware of the election and said SG faces difficulties connecting with students.
"I'm not really aware of the Student Government, to be honest," she said. "In general, it's hard for SG to reach everyone because the BU community is so large, but I think they could make more of an effort."
Zoe Cervera, a sophomore in CGS, also said SG has not been prominent enough in the BU community.
"I don't think there's any change in particular that I'd like to see, but I think [SG] could get more involved with the students so we know more about them, because I don't know anything about the student government," she said. "I definitely don't think they're a big enough presence on campus."