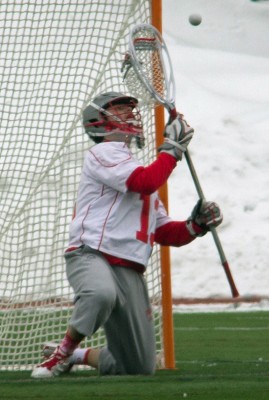 With hopes of bouncing back from defeat, the Boston University men's lacrosse team will travel to No. 15 Harvard University Tuesday night in search of its seventh win of the season.
BU (6-2, 2-1 Patriot League) previously fell 13-6 to Bucknell (5-3, 2-2 Patriot League), ending a three-game winning streak. With one day of practice and a new game plan in hand, BU head coach Ryan Polley isolated mistakes made in order to yield positive results against Harvard (4-3).
"Our main focus is going to be us and fixing the mistakes that we did at Bucknell and continuing to work on the things we need to be successful to be a balanced team," Polley said. "So nothing really changes that much, win or lose. We work on what we need to get better at and certainly highlight the things we did well."
The upcoming game against the Crimson serves as an opportunity for BU to push forward after a minor setback. The Terriers took Sunday off and will be coming off their shortest turnaround of the season. While there is a shortage of preparation time, Polley said his team needs to ready for any and all challenges laid out on the field.
"With mid-week games, you never know what to expect," Polley said. "You have a lot less preparation time, you get banged up from the weekend and typically you have another game on Saturday that you're trying to make sure you are healthy and as fit for."
When the two teams met last year, BU fell 9-8 and was a buzzer-beater chance away from sending the sides into overtime. The star that day was attack Devin Dwyer, and he's enjoying a comprehensive senior year. He leads the Crimson in goals (21), assists (15) and points (36), and his .636 shot percentage is second best in the country.
Though BU fell short last year, Polley looked back on that game positively and said his team has since made significant progress.
"I think we are two completely different teams, and I don't think we think too much about last year or how close the game was," Polley said. "There's just a whole bunch of different challenges that go into a mid-week game, but again, we're just going to focus on us and play a great game and not worry about last year or worry too much about Harvard."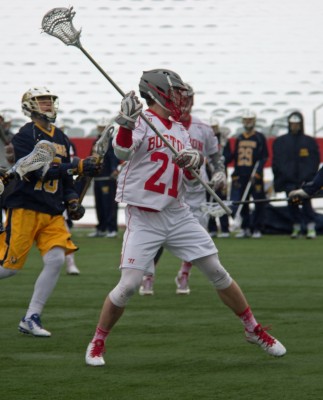 Leading that focused effort should be the likes of junior Cal Dearth and freshman Brendan Homire, as they've combined for 12 goals and 20 assists. There will also be the ever-present efforts of sophomore attack Jack Wilson and freshman attack James Burr, each of whom have fired home 16 goals.
Last but not least, junior goalkeeper Christian Carson-Banister will serve as the team's backbone, as he registers a Patriot League-best 11.38 saves per game.
"We expect them to be our leaders and play well for us," Polley said. "We're obviously at our best when [they're] playing at a really high level, and our captains are doing a great job leading the team and they show up well prepared. So we'll expect a lot of what they have been giving us, and they've been doing a great job, so we don't expect anything different."
All in all, should BU knock off this ranked Harvard side, Polley said he feels it'll come down to players executing when called upon.
"I just think they are an extremely well-coached and talented team," the third-year head coach said. "In addition to that, they are coming off a few losses like we are, and I think both of us are going to play a great game."