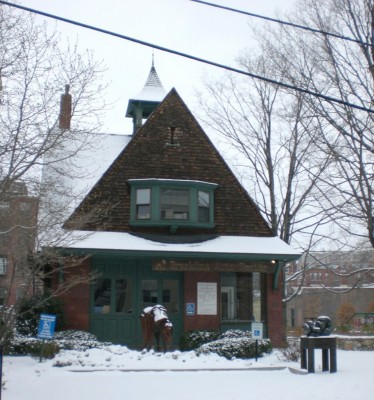 Ceramics have historically been used in domestic settings for practical uses such as cooking. But in its new gallery, "Conceptual Clay, Hot Art," the Brookline Arts Center showcases more artistic uses of the medium.
"The Brookline Arts Center invited Massachusetts based ceramic artists to submit their most conceptual works in clay" for the show, according to its website. The gallery opened Friday and will run through April 22.
Lauren Riviello, the assistant director of the Arts Center, said the center wanted to host this exhibit because of the current "lack of communities" that display ceramic art.
"It was important for us to try and provide that opportunity," Riviello said.
The center has two juried exhibitions each year, one statewide and one national. For this year's statewide exhibit, the staff wanted to do something that was related to the classes they offer. Since the center has a pottery studio, they decided to showcase some local ceramic art, including art from two faculty members.
The Arts Center offers classes in everything from pottery to cartooning for all ages. Last year, the statewide exhibit showcased jewelry and metalwork to complement their jewelry-making studio.
Riviello said she likes how "Conceptual Clay, Hot Art" gives students who attend classes at the Arts Center the opportunity to see "real, high-quality ceramic work" right downstairs.
"A lot of times, people think of things that you can eat off of, things you can drink out of, and it can really be so much more," she said. "A lot of ceramic artists, especially right now, are pushing the limit about what ceramics can really be in art."
Bill Cohn is a Lexington-based artist whose work, "Angkor Wat," is part of "Conceptual Clay, Hot Art." He calls his style "industrial organic," blending industrial materials with organic shapes and textures. Although he has never been to the Buddhist temple Angkor Wat in Cambodia, Cohn said it sounded like "a cool place" that he imagines is "covered with vines."
"Clay is so interesting," he said. "It looks alive. You have this contrast between industrial and organic, which creates a unique look."
Cohn said he likes taking risks with ceramics. Unlike most art made out of clay, "Angkor Wat" hangs on the wall, recalling aspects of painting while still serving as a 3-D sculpture.
"It's definitely a little bit on the creepy side," he said. "I'm glad people like it, because it's not at all what you're used to seeing with ceramics."
Although Cohn's work is an abstract interpretation of an actual temple, other pieces at the exhibit recall more traditional uses of clay.
Robert Chamberlin's piece "Light My Fire 27," made of porcelain, was originally part of a 100-piece installation at another gallery. When this candelabra-shaped work is alone, however, it reflects ideas of memoriam and celebration in addition to desire, since porcelain is a desired material all over the world.
Chamberlin studied photography in college but he has been working with clay since he was in high school. He is mostly interested in "making the ceramic work less about an individual piece and more about the installation as a whole" and is inspired by the "porcelain rooms of grand European palaces."
"My work has always been building on itself since the first time I showed ceramic work," Chamberlin said.
Other artists used themes they had worked with before and interpreted them through clay.
Rachel Eng teaches at the pottery studio in the Arts Center and is an Allston-based artist. Her piece "Penitent" depicts the skin cells on amphibians and fish that reflect light and give an effect that makes it look like the animals are changing colors.
"They're ever-changing with their environment," Eng said. "The larger sculpture behind the amphibian is an embodiment of that shifting."
Although Eng works with other materials besides clay, she said she likes ceramics because they can take so many different forms.
"I use clay mostly for the freedom and potential to create anything," Eng said. "A lot of the other work I'm making deals with the ephemeral condition of clay."
Eng explores this theme of small parts adding up to a whole in many of her works.
"I'm thinking about different types of organisms that we might deem as disgusting or gross, like bacteria," she said, "and trying to elevate them and make them feel more beautiful and important in how they contribute to the balance of our life."