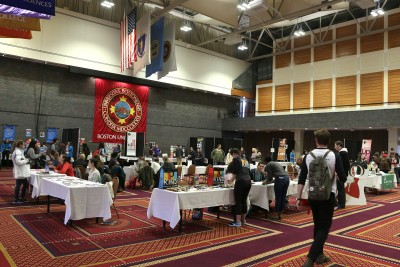 Seventeen wellness-focused Boston University student and health groups gathered Monday at the first BU Fresh Check Day to increase the number of conversations and confront the stigma of mental health among college students.
The exhibition, held in the George Sherman Union's Metcalf Hall, included booths representing the Sexual Assault Response and Prevention Center, Peer Health Exchange and the Fitness and Recreation Center. Lily Helpenstell, a graduate assistant with Wellness and Prevention Services, said approximately 250 members of the BU community attended the exhibit.
Fresh Check Day is a product of the Jordan Porco Foundation, an organization focused on preventing suicide in college and high school students, according to its website. JPF was founded by Ernie and Marisa Porco after their son committed suicide during his freshman year of college, the website noted.
Fresh Check Day also helps build a bridge between students and the mental health resources and programs that exist on campuses, the website stated. Several other higher education institutions around the nation will also be hosting a chapter of Fresh Check Day until late October.
Helpenstell, a second-year graduate student in the School of Social Work, said the exhibition aimed to create a "fun" atmosphere that inspired dialogues about mental health among students.
"Talking about mental health is kind of taboo or not something everyone wants to talk about," Helpenstell said. "The idea of this event is to start a positive and productive conversation about mental health for college students."
Fresh Check Day intends to support students who are transitioning into a college atmosphere that can sometimes be stressful mentally, Helpenstell said.
"We need to check in with college students, especially younger college students, as they adjust to being at school [and] away from home," Helpenstell said.
The exhibition also focused on helping attendees learn that communication the key to prevention and increased awareness about mental health, Helpenstell added.
"Peer-to-peer messaging is a huge thing," Helpenstell said. "It's important for people to know from their peers [that] it's okay to talk about mental health, and it's okay to talk about why mental health is important."
Danyelle Pagan, a member of mental health awareness group Active Minds, stood at the organization's booth. Pagan, a junior in the College of Arts and Sciences, said every student should be aware of various methods of suicide prevention for themselves and their friends.
"A big part of [suicide prevention] is just being connected with your friends," she said. "Knowing and being aware of the warning signs is a big thing … Taking an interest in your friends' lives, making sure they're OK, checking in — that's a big part."
Pagan said peer support is important for students struggling with mental health issues to feel understood.
"A lot of times, people feel like it's something they're going through alone," she said. "They don't understand [that] other people are going through similar things, and there's support out there."
Several student attendees said the gathering of the wellness-focused groups was helpful in displaying the number of available on-campus resources for student health.
Julie Yang, a freshman in the College of General Studies, said the showcase of different groups brought together parties that are helpful resources for students in need.
"All these booths are reaching out to give help," she said. "They have programs we can go to if we have problems or know anyone. It's great for people who are private or scared to reach out."
Cleopatra Dessalegn, also a freshman in CGS, said the different groups at the exhibition proofed the rhetoric that a lot of mental health resources are available on campus.
"I learned that BU is very open," she said. "They're willing to help. They're always there. If you have a problem or know somebody who has a problem, you can always go to them."
Martine Subey, a senior in the College of Communication, said the timing was perfect, as a lot of students are experiencing stress at this time.
"It's a very stressful time of year with graduation coming up, a lot of midterms, a lot of job hunting," she said. "It's important to come and gain perspectives on different parts of self-care for yourself and other people. I wanted to come to de-stress myself but also learn about different programs and how you can help other people."