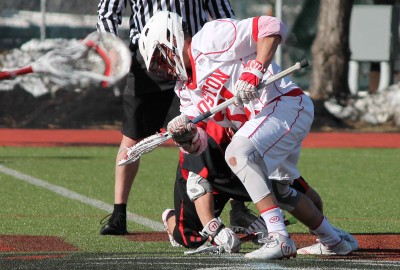 Chalk up yet another program milestone for the up-and-coming Boston University men's lacrosse team.
Traveling across the Charles River to take on No. 15 Harvard University, the Terriers (7-2, 2-1 Patriot League) held on for a 9-8 win Tuesday night, erecting the most wins in program history and dispatching its second ranked foe in 2016.
The win bore significance in the here and now too, as BU needed to dig deep after getting knocked off its perch last weekend by Bucknell University, and BU head coach Ryan Polley felt his team did just that.
"I was really proud of how we responded not only from the Bucknell game, but within the game of Harvard," the third-year coach said. "They score on the first faceoff, they go up 2-0 and they're a great team that's 15th in the country. We're at a critical point in our season where some doubt could have crept in, and the guys just responded great."
As Polley alluded to, Harvard (4-4) stormed out to an early 3-1 lead, but, as has often been the case this year, the Terriers' did not crumble. As led by two timely goals from BU's third midfield line of freshman Michael Laviano, sophomore Greg Farris and junior Chad Bell, the deficit slowly decreased.
A 5-5 score held true at halftime, and the first half was not without its struggles defensively. Polley said BU tried a zonal defensive scheme for the first time all year, requiring kinks to be worked out come the last 30 minutes.
Junior midfielder Cal Dearth, who finished the day with four goals and two assists, rallied off a second-half hat trick to give BU a 9-5 lead in the fourth quarter. His efforts were indispensable, but they likely would not have come about without the guidance of BU assistant coach Justin Domingos.
"Cal is such an unselfish player and a great passer that he'll dodge and won't even be looking at the cage," Polley said. "Coach Domingos really challenged Cal yesterday and in pregame for him to look for his shot first and then focus on passing second. Cal took that to heart … and was really the catalyst of our offense tonight."
As important as Dearth was, junior goalkeeper Christian Carson-Banister arguably played an even bigger role. He finished with 13 saves and helped BU hold onto its 9-8 lead when Harvard had a last-minute, extra-man opportunity.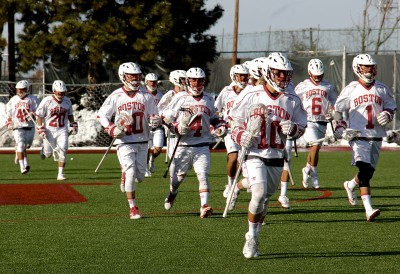 "CB's had games when he's had more saves, but I don't know if he's had a game where he's had so many quality saves in 1-on-0s," Polley said. "They're very skilled, have great shooters and put the ball in the right spot, and he made critical saves. He was unbelievable in that third quarter and was just the backbone."
With contributions from proven veterans and youngsters alike, the Terriers are continuing to succeed. Polley said it's easy sometimes to get caught up in the euphoria of a singular result, but perspective is just as important.
"With a new program, you have to really take a step a back to enjoy when you accomplish things like this," Polley said. "The fact we knocked off our second-ranked opponent in a year through basically half our season, the fact we have our most wins, the fact we were in the top 20 for three consecutive weeks, those are all incredible accomplishments for a program as young as ours."
The chance for more accomplishments lay in waiting, the first of which will come about this weekend when BU travels to take on Lafayette College. A victory against the Leopards (1-6) would get BU one step closer to its ultimate goal of the Patriot League Tournament.
Polley said there's much work to be done ahead of then, and BU shouldn't rest on its laurels.
"It's paramount that we respond, enjoy the victory, understand all the accomplishments that we've attained this early and that there's a lot of work that needs to be done," Polley said. "Our next game is by far our most important."