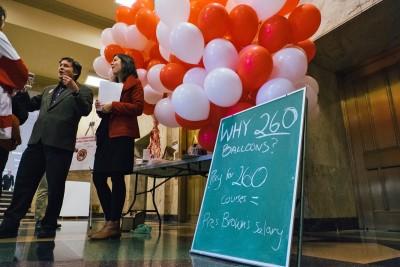 Boston University adjunct professors rallied Wednesday in front of the Tsai Performance Center to raise awareness of their current working conditions before other members of the faculty headed inside Tsai for the Spring Faculty Assembly.
At one point during the peaceful rally, Kush Ganatra, a member of the BU Student Curriculum Committee, stood up on the steps by the performance center's entrance inside the College of Arts and Sciences. He called attention from passersby, gave his support to the adjunct professors and called upon President Robert Brown to respect and treat the adjuncts properly.
"President Brown has been called 'the engineer who built BU' by BU Today, but they failed to mention just who BU was built for," said Ganatra, a junior in CAS. "The administration refuses to think of its workers as anything other than statistics."
Ganatra said the university achieves success using the same methods as Walmart — doing anything to make more money and maximizing the bottom line.
Approximately 30 adjunct professors and student supporters organized the protest. They passed out flyers to prospective students and families who passed through the building on their campus tours and to faculty members making their way into the performance center. Many of the tour participants and faculty members stopped and listened to what the protesters had to say.
The organizers' table was decorated with 260 scarlet and white balloons to symbolize the number of courses an adjunct professor would have to teach yearly to earn the equivalent of Brown's $1.3 million salary.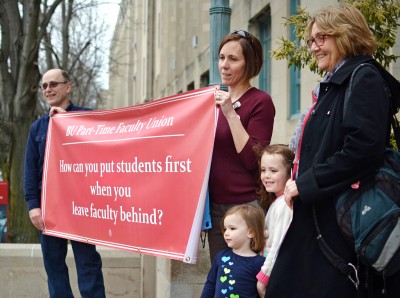 "We thought [the rally was] one way to get attention from full-time faculty to discuss about our negotiations," said Tinker Ready, an adjunct journalism professor in the College of Communication and one of the organizers. "It is just a good opportunity to communicate them this way and communicate with others in the community — people who are walking by, walking in, [and we] have a presence."
This latest development comes at a time when BU adjunct professors are still in the process of reaching a fair contract with the university administration one year after they voted to unionize, The Daily Free Press reported Feb. 26.
Ready said she and other adjunct professors want the university to recognize their hard work by offering better salaries, longer contracts and more opportunities for personal improvement. Ready argued that adjunct professors earn a quarter to one-third of what tenure-track professors receive.
"[The university] never sent me to the to the Online News Association meeting," Ready said. "As a journalist, I have to spend every break for catching up. I spent a lot of time learning how to do all the software with cameras. Of course, I learned them at my own will. It is just that the struggle we have to go through in order to give the best to the students [is too much]."
Several people at the rally said they support adjunct professors' efforts to advocate their rights, and the university should devote most of its money to students and faculty.
Susan Vik, a lecturer in the BU Center for English Language and Orientation Programs, said she participated in the protest because adjunct professors have different working conditions, compensation and opportunities than full-time faculty.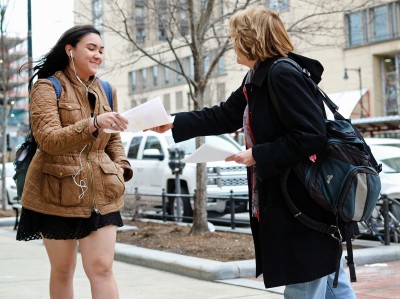 "There's unequal contingency," Vik said. "Our contracts go semester to semester, so we never know if we will get work. All BU students essentially have adjuncts as professors at some point, and they pay the same amount for a class taught by an adjunct as a full-time professor. So obviously, BU values us the same."
Kelsie Merrick, the chair of SCC, said she supported the protests because adjunct professors cannot fully devote themselves to their students if they have constant concerns about their job security.
"We are here to prove to the faculty and to President Brown that it is not just adjuncts who want these benefits," said Merrick, a sophomore in CAS. "Many adjunct professors do not have their own offices. They share it with other professors, which makes it hard for students and professors to have the personal relationships they need to have."
Chris Snook, president of United Auto Workers Local 2324, said it is not fair for faculty to receive a 2 percent salary increase in the past seven years while BU becomes one of the most expensive university in the United States.
"[Adjunct professors are] a group of some of the lowest-tier people on campus," Snook said. "Graduate students [who are] teaching classes make more than them. The ultimate goal is a fair contract. Adjuncts feel their value will change if they're better recognized by the university. They will be friendlier and more enthusiastic in their jobs if they're given the respect."
Joseph Martorana and Meagan Schwarz contributed reporting to this article.