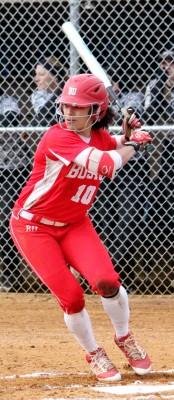 After splitting a weekend series in rainy Maryland, the Boston University softball team has two more non-conference fixtures against Sacred Heart University before diving into Patriot League play.
The Terriers (10-12) will face off against the Pioneers (6-14) in a doubleheader Thursday afternoon at home, and BU head coach Ashley Waters said her team is ready for what's ahead.
"Getting in two games before beginning conference play with Army is huge," Waters said. "So this series is more for us to get better with our gameplay."
BU comes into the series having played well as of late, winning six of its last seven games and averaging nearly seven runs a game in that span. Most recently, the Terriers routed Binghamton University by a score of 11-1, where they poured in three runs in three separate innings thanks to junior shortstop Britney Younan's five RBIs.
In that contest, senior ace Lauren Hynes kept the Bearcats (9-9) to one run through seven innings and has arguably become the focal point of the Terrier rotation. Waters has been impressed by Hynes' play and is looking forward to her performance in Thursday's double-header.
"It's not flashy, but she pretty much does her job," Waters said. "She's executing the ball, she's keeping it low and she is keeping us in games. For her, she could not have had a better preseason. I hope her preseason form carries into conference play, and I'm sure it will."
Hynes will take to the mound for one of those games, and Waters is confident in junior pitcher Makinna Akers to start the second game.
"We are in a position where Makinna and [senior pitcher] Melanie Russell have melded for a lot more chances, and Makinna has come in like a relief hold," Waters said. "So I think Makinna will get that second start going into the game and then have Mel come in and close it out."
Another Terrier looking to perform well before the Patriot League schedule is freshman second baseman Emily Morrow. The prospect out of Lakewood, California totaled three hits in last weekend's double-header.
"It was a bit of an adjustment period for her, but she has owned it," Waters said of Morrow's move from shortstop. "Offensively, she does what she needs to, and I think she will have a great role in conference play."
Sacred Heart comes into this double-header looking to bounce back from a three-game skid in which it fell to Siena College once and La Salle University twice.
While outfielder McKenna Wiegard has shown upside as of late, outfielder Lauren Delgadillo leads her team with 18 hits. Junior Kelyn Fillmore is another offensive threat, as she's batting .281 and consistently gets on base. Even though Sacred Heart averages under three runs scored a game, Delgadillo and Fillmore show signs of a strong hitting core.
The Pioneers' young roster also boasts the freshman duo of Emily Orosco and Kristin McCann. Although junior Jamie Carlson is the go-to starter for this team, Orosco has shown up as the future star of the staff, as she owns a 1.51 ERA and just over nine strikeouts a game through seven games.
On paper, Sacred Heart seems to be a young team trying to find its identity and its footing in the Northeast Conference. However, Waters has urged her team to respect its opponent and stick to the mantra of "anyone's game on anyone's day."
"That's the part we are trying to teach to our kids," Waters said. "You have to be consistent innings one through seven. Sacred Heart has had a great program in the past, and even though they don't have the offense they necessarily want, that doesn't mean they can't have a lights-out day against us. But our kids are ready for conference play, and I hope they utilize these next two games to get ready for the heart of their season."