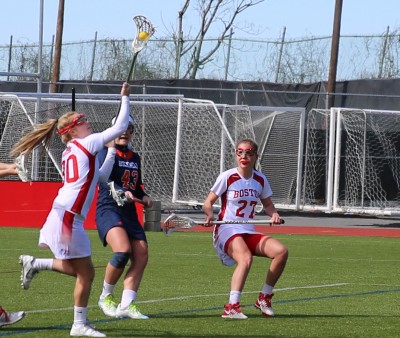 The Boston University women's lacrosse team started off this week on a high note, defeating Vanderbilt University 14-13 in a nail-biter on Tuesday.
Thanks to senior midfielder Ally Adams, who scored the winning goal with 16 seconds remaining, the Terriers (4-4, 2-0 Patriot League) came away with their second straight victory of the season.
According to BU head coach Liz Robertshaw, however, this is all part of the team's plan for success this season.
"I think a win can only be a positive thing," Robertshaw said. "Overall, I think it's great, and I think they were really happy about the comeback. It helps with the mentality as we get into this weekend's game."
The Terriers will have to regroup for their next game and a chance to continue their winning streak. Familiar foe Loyola University Maryland will come to town Saturday afternoon for crucial conference matchup.
BU will have its work cut out for it when facing the Greyhounds (5-4, 2-0 Patriot League), as the Terriers sport a 0-4 record versus their conference foe in the past two years. Most recently, Loyola defeated Robertshaw's squad 14-7 in the 2015 Patriot League semifinal.
"I hope we're not going to have emotions about last year's game," Robertshaw said. "It's a totally new year. We're a different team, and the entire group has a different mentality than we did last year, and so does Loyola."
This season, Loyola is once again a high-caliber team and is currently tied with BU for first in the Patriot League standings.
Freshman Hannah Powers leads the Greyhounds in points (25) and assists (13), while sophomore Frankie Kamely currently leads Loyola in goals with 18. Senior Maddy Blakeman holds the second highest total for goals with 17, giving her 46 career goals halfway through the year.
Not only is the Greyhounds' offense extremely competitive, but so is its defense. Senior Maddy Lesher holds the Patriot League lead in ground balls, with 3.38 per game. Meanwhile, freshman Kristen Yanchoris leads the team with 17 caused turnovers this year, which also ranks first in the conference.
Senior Molly Wolf's .479 save percentage is second in the Patriot League, her 69 saves is third best and her 9.06 goals against average is also third best.
Despite those strengths, Robertshaw is confident that her team matches up well against Loyola on both sides of the ball.
"I think it's a good matchup, to be honest," Robertshaw said. "I think we're both athletic, we're both aggressive in terms of guarding the cage and taking chances, and I think that's something we want to make sure we continue."
Not only was Adams the hero in Tuesday's win, but she also currently leads the team in points with 23. Senior midfielder Jill Horka has won 35 draw controls, which is second best in the Patriot League. Junior goalkeeper Caroline Meegan is ranked first in the conference in both saves per game and save percentage.
Buoyed by the likes of Adams and Horka, Robertshaw feels strongly about BU's chances ahead of welcoming a team it has previously struggled against.
"We're really just trying to focus on who we are as a team and playing a great game against Loyola this weekend," Robertshaw said. "I think that's something to be excited for. That little bit of wanting to get the first-time win, but we have to earn it, and we know that going into it."