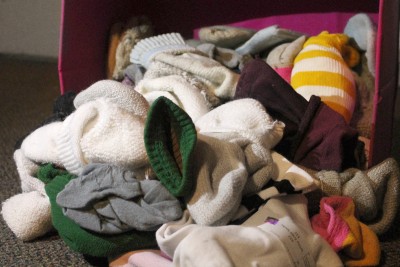 When University of Massachusetts Amherst graduates Parker Burr, Taylor Offer and Elijah Grundel began creating and selling multi-patterned socks from their dorm rooms, they got on their feet and embarked on an idea that would skyrocket their success.
Their success as sock entrepreneurs, that is.
Burr got the idea to sell socks after starting his first business, a startup that sold sports uniforms. When his customers requested socks, he began looking into the market.
"I was a sophomore [in 2012] when I started messing around with [the idea] at UMass, and socks were exploding at that time," Burr said. "It was just really good timing. We got super, super popular and, I mean, you see it now. Everybody talks about their sock game. I was just at the beginning of it, so the timing was definitely key."
Last August, the team moved their company, FEAT Socks, to Boston. They have six industry sales representatives that pitch the socks to retailers around the country.
The FEAT team — which also includes Bianca Corey, Philip Nash and Andy Upton — enjoys the freedom and excitement that comes with running a startup.
"I like doing my own thing," Burr said. "People ask me, 'What are you doing tomorrow at work?' and I have no idea until I get to work in the morning. It changes every single day. Sometimes I'm visiting customers, and some days I'm packing boxes."
Corey, FEAT's event manager, said that the team is very close-knit because its members all just graduated, and she said she feels as though "a new exciting thing happens to us each week. Plus, it's all 20 year olds."
Nash, the sales and project manager, emphasized the exciting work environment at FEAT. Last summer, he said he printed about 25,000 pairs of socks by hand. Currently, he is collaborating with artists to develop new merchandise.
"When you get excited about what you do, it doesn't really feel like work," Nash said.
With names like "Bam Bams" and "Freaky Tikis," the FEAT Socks merchandise is aimed to inspire people to experiment with their own sense of style. In the company's latest concept, called "The Weekenders," FEAT pairs with local celebrities to design sock lines.
"The Weekenders are people that live every day like it's the weekend, that don't just go up the corporate ladder to make a paycheck," Burr said. "They're just having fun, smiling and enjoying life.
Past FEAT collaborations include vocalist Matisyahu and singer/songwriter Zander. The latest "Weekender" is U.S. Olympic medalist and gymnast Aly Raisman. The team is currently seeking a national clothing chain to sell Raisman's five-sock line this spring.
FEAT Socks is using its growing popularity for good. Along with presenting to local high school kids about entrepreneurship, the startup has donated more than 2,000 pairs of socks, with a focus on homeless shelters around the Boston area. They have paired up with Pine Street Inn, Somerville Homeless Coalition, Project SOUP and Floating Doctors.
"Socks are the most requested thing in homeless shelters, and no one donates them because no one wants to give their used socks," Burr said.
Corey found local organizations to connect with through a friend who works at Back on My Feet, a nationwide nonprofit that helps homeless people get back on their feet through running.
"We thought it was perfect to team up with them, give them socks and go running with them," Corey said.
To current college students thinking about opening their own businesses, Burr advised, "Just go for it."
"When you're young in college, you can always go back to class," he said. "Class is still going to be there. It's the best time in the world to go after something. If you fail, it doesn't matter."
Corey said the best advice is to stay open to new opportunities.
"Don't go through college thinking you have to do something," she said. "Try and try again. I was a pre-vet major when I graduated, and now I'm doing business and I love it. Don't get stuck in a certain path that you think you have to do."
Burr said he hopes from FEAT's startup experience, people takeaway that anyone has the chance to start a business.
"It doesn't matter how old you are," Burr said. "Believe in yourself and believe in the product."