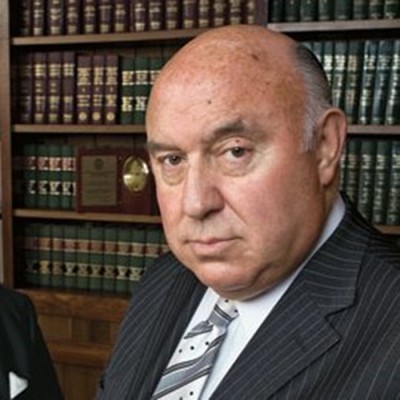 Terriers InBiz is a series that highlights Boston University alumni who have been innovative leaders in their field and have played a significant role in businesses, locally or globally.
When attorney Victor Garo learned that the average student in the United States graduates with around $30,000 worth of student loan debt, he knew he needed to do something to fight this problem. Currently, he said, there are approximately 40 million people who owe student debt — a majority of them are millennials.
Garo, a 1963 graduate of Boston University's School of Management (now the Questrom School of Business) and a 1965 graduate of the School of Law, recognized the need for a system that made it possible to attend college without remaining in debt for years to follow. As the wealth gap in the United States continues to increase, Garo created an alternative option to the traditional mortgage.
"In my opinion, two of the ways that you combat this wealth gap is through home ownership and education," Garo said. "My mortgage addresses both of those needs."
"PAM" mortgage stands for Principal Accelerator Mortgage. Under a traditional mortgage, known as a direct reduction mortgage, Garo said approximately 78 percent of payment goes toward interest and 22 percent of payment goes toward the principal of the loan, which is the amount borrowed.
"Under my mortgage … about 50 percent goes to principal and about 50 percent goes to interest," Garo said.
A mortgage in which 50 percent goes to principal speeds up the process of paying it off, creating more equity, Garo said. This increased amount of equity would then be used to pay for college.
At first glance, banks would be resistant to a mortgage that decreases the amount of interest paid because they would be making less money. Banks often sell their mortgages on the secondary market, however, losing future interest. PAM mortgage does not sell its mortgages, which Garo said allows banks to accumulate a secure amount of interest.
He wanted to create something that benefitted all parties, making it more realistic for his product to gain ground.
"This mortgage allows you to create a savings account," Garo said. "At the same time, it also is making the bank a far more secure investment … because the bank has more money that is now invested by the borrower on the principal side."
While Garo has been practicing law for nearly 50 years, specializing as a conveyancing attorney for 20, he said he's always been interested in helping as many people as he can. This mentality stems back to advice he received from his parents after being sworn in as a lawyer at the Massachusetts Supreme Court in 1965.
"My parents said … 'Now that you're a lawyer, you can help people. [We] want you to go out and help as many people as you can,'" Garo said. "And that's what I've done my whole career — 50 years as an attorney."
Currently, the default rate for student loans is 12 percent, according to Garo, and it continues to rise. Banks are now less willing to give out student loans because of the high probability that the loan will not be paid off. This makes college less attainable for millions across the country.
By putting homeownership and student loans in conjunction with each other, Garo hopes to get the banks to adopt his idea.
"Every bank and every credit union [is] currently giving out the same old mortgage, and it [doesn't] work anymore," Garo said. "It needs something new. It needs new vitality."
The goal of Garo's mortgage is to address crucial issues that the nation faces, specifically student debt, the shrinking middle class and the decreased demand for home ownership.
"I'm trying to create something that's good for our entire community [and] not just the schools," Garo said. "It helps out … home sellers, it helps out the real estate market, it helps out all of the real estate brokers."
Garo said he was fortunate enough to receive an education, even though his mother grew up as an orphan and his father grew up poor. Garo said he believes that everybody should be able to go to college, which is his chief motivation in creating PAM mortgage.
"That's why I'm working on this mortgage," Garo said. "I want people to be able to say, 'I can afford to go to college.'"
Garo said he envisions PAM mortgage to eventually spread to Europe given that it is going through a similar recession to the one the United States experienced in 2008. Garo said his mortgage will be able to aid in Europe's recovery as well as make higher education more attainable.
"My motto is, if you have a PAM mortgage, you can afford to send your child to college," Garo said.