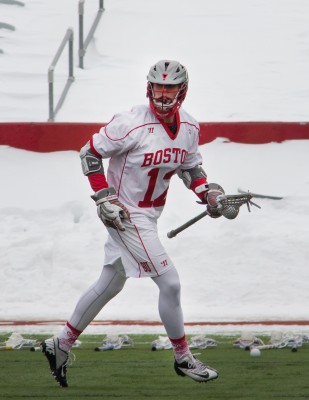 The Boston University men's lacrosse team will end its three-game road stretch when it squares off against Lafayette College this Saturday in Easton, Pennsylvania.
The Terriers (7-2, 2-1 Patriot League) have proven they're a serious contender and are fresh off of a thrilling 9-8 victory over crosstown foe No. 15 Harvard University, the team's second win this season over a ranked opponent.
One of the stars from last game was junior Pat Myers. Starting as a midfielder, Myers scored two goals on four shots versus the Crimson (4-4). BU head coach Ryan Polley explained that the coaching staff wanted a player more adept at dodging hits roaming the middle of the field, and the Bethesda, Maryland native was the perfect fit.
"We really felt we needed someone with a little more of a dodging presence," Polley said, "and Pat was doing a great job on the second line, and he played with the attack to start the season, so we knew he was certainly capable of it. We like to balance the line, but we just felt that putting another dodging presence up on that first line would be a good thing for us. Pat certainly responded and had a great game."
Another takeaway from the Terrier's victory was their defensive style, as Polley and his staff played a zone defense instead of man-to-man. It paid off, as the Crimson were held to eight goals and 32 shots, both below their season averages of 10.63 goals per game and 33.4 shots per game. Harvard also went 1-for-6 on extra man opportunities thanks to the presence of junior goalkeeper Christian Carson-Banister.
Regardless of which defense BU employs, the Leopards (1-6, 0-4 Patriot League) have struggled to piece things together. Their last win came on Feb. 19, and they've failed to score more than eight goals in a game since. Most recently, Lafayette fell 11-4 at the hands of No. 14 United States Naval Academy, a team BU beat 10-9 in double overtime on Feb. 27.
In preparing for a Lafayette team that averages a mere seven goals per game, Polley stressed the importance of consistently playing hard on the defensive end, not the type of defense his team plays.
"We're going to play hard during defense," Polley said, "and certainly whatever we play, we're going to do it to the best of our ability."
Despite an inefficient start to the season, the Leopards still have ways to beat opponents. Lafayette is tied for the conference lead in caused turnovers. Attack Eric Joseph is one of the top scorers in the league with 19 goals this season, while teammate Jason Sands has notched an impressive 17 assists in seven games.
Yet, BU and Lafayette have experienced different seasons so far. The Terriers top five offensive players have tallied 92 points so far this season, while the Leopards' top five only have 62 points to their name. That disparity exists in defense as well, as BU surrenders 8.89 goals per game, and Lafayette allows 11.29 goals per game this year.
Despite having the upper hand, Polley knows his team has to treat this weekend's contest just like any other game.
"We don't approach it any differently," Polley said. "Lafayette is a very good team, they're excellently coached and the challenge is making our guys believe that, because we haven't done a great job when we've played some teams that haven't been as talented as some others on our schedule."
Every Patriot League game is an important one, and that isn't lost on Polley, who expects a high amount of energy and drive from his players on Saturday.
"I'll be very disappointed if our players take a different approach to it, because we need to play a great game to win," Polley said. "I fully expect this to be a very tough game for us. I don't expect us to blow Lafayette out, because they're well coached and do a lot of things well. That is not our mindset. Our mindset is [to] just play BU lacrosse."