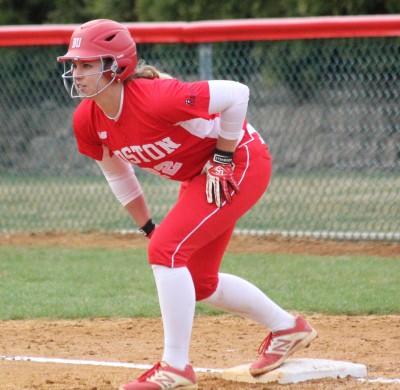 Between waiting an extra hour for their opponent to arrive and waiting until the ninth inning to seal a 6-5 victory against Sacred Heart University, the Boston University softball team needed a lot of patience on Thursday.
Originally scheduled for a doubleheader against the Pioneers (6-15), BU head coach Ashley Waters said that concerns regarding the weather and miscommunication led to the cancelation of one game. Waters said the Terriers (11-12), on the other hand, were excited to get out and play no matter the weather.
"We're a New England team, so this was prime for us," Waters said. "It was snowing in Maryland today, so this was cake."
Though Waters was excited to play in this weather, both teams definitely needed warming up. In the first two innings, both senior pitcher Lauren Hynes and starter Emily Orosco held their opponents without a base runner, yet it wasn't easy. Both pitchers worked hard to get outs, and batters on both sides worked the counts — an event that ultimately led to fireworks in the third inning.
In the top of the frame, Pioneer infielder Stephanie Appelberg and senior Nicole Deissler led off with two singles. Hynes' first free pass of the day loaded the bases with nobody out. Unwilling to flinch, Hynes regrouped and recorded the next three outs without allowing a run, a turning point that swung momentum in favor of the Terriers.
Sophomore center fielder Jilee Schanda led off the bottom of the third swinging on the very first pitch. She hit the fence and made it all the way around to third base. Hynes then plated her with a squeeze bunt just two batters later.
After Hynes pitched a bounce back one, two, three inning in the fourth, the Terriers scored in each of their next two innings to make it a 4-0 game.
Hynes' pitch count got to her in the sixth inning, however. After loading the bases again, this time with two outs, Appelberg launched a grand slam to the deepest part of the field, tying the game with one swing of the bat.
Hynes finished the inning, but came out after that. She allowed four runs off six hits and two walks, but also through 112 pitches, a figure Waters said she wasn't terribly happy with.
"I think she got ahead of a lot of people with two strikes and then all of a sudden, we'd be in a three-two situation," said Waters. "She just needs to do a better job of pounding the zone. Our defense is great — we've got to have trust in them. Base hits are base hits. I'd rather someone earn it than us just give it to them."
Junior pitcher Makinna Akers came on in relief starting in the seventh inning and showed well. While she allowed one run in the eighth, the Terriers also brought a runner home, making it 5-5 going into the ninth. Akers shut the door in the top of the frame, notching one strikeout followed by two groundouts to keep the runner at second from scoring.
It was Schanda again who got it going for BU in the ninth. She brought freshman second baseman Emily Morrow to third with a single. Junior catcher Gabi Martinez then brought Morrow home on a walk-off fielder's choice.
Thursday's win wasn't the prettiest for the Terriers, but the end result was positive. While Waters said that Hynes wasn't at her best, she praised her for keeping the team in the game for as long as she did. Waters also acknowledged her team's ability to stay positive and stay in the game even when it was backed up against a wall.
"Our kids know they need to grind innings one through seven, every single pitch," she said. "There is no quitting for us. Even when the grand slam went out, every kid's head was up. It was just like, 'Two outs. OK, let's go.' They know they have a job to do, whether it's in seven innings, eight innings or nine innings."