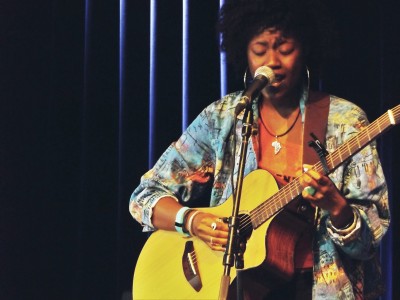 Sunday afternoon plans usually consist of bottomless brunches or endless studying sessions at the library. But for those who were part of HUES Fest 2016 in East Boston on Sunday, it was the start of a movement to showcase talented, binary and non-binary wimmin of color in all their glory.
HUES Fest uses the pronouns "womyn" and "wimmin" to recognize gender-neutral language that respects all who took part in the event.
Maya Osborne, 22, a spoken word artist from Brooklyn, took the stage and began each piece by recounting the inspiration behind each one. Covering race, sexuality and heartbreak, Osborne used each spoken syllable to expose her vulnerability.
"I am that girl with more to twirl," Osborne read from the first piece of her set. "I'm that plus-size beauty with too much booty for that Armani and Gucci. I am that girl, that girl with extra swirl, that girl with more to twirl. I'm that girl. I'm that chubby honey known to be real funny to make up for the size of her tummy. I am that girl."
The once silent audience snaps, applauds and cheers for Osborne's piece.
Osborne was one of 13 performers that participated in the festival, which was the first of its kind that HUES, the women's programming sector of the Hispanic Black Gay Coalition of Boston, has ever created.
HUES program manager Mala Maya and program volunteer Dee Daniels, a senior in Boston University's College of Communication, collaborated to carry out a vision that they have long dreamed of — an event lineup that featured only wimmin of color.
"I hope that the people who witnessed HUES Fest will recognize that when we create women of color centric spaces, they're special and such a force," Maya wrote in an email. "I hope that they'll want more spaces like this and start creating those spaces themselves too."
HUES Fest was able to become a reality with the help of sponsors like Break the Chains, a monthly queer dance party. Evan Greer, founder of Break the Chains, said the generosity of donors is vital to help create an "important event that elevated people that are so often left out of our music scene."
Mayyadda, a 22-year-old singer-songwriter from Minneapolis, has played the piano since she was four years old and taught herself how to play the guitar at 14. Since graduating from college, she's been determined to have a career in music and appreciates the individuality of a gig like HUES Fest.
"It is weird to walk into a space in which nobody looks like you and you're performing a song geared towards black wimmin," Mayyadda said. "It's a very vulnerable place to be alone on a stage, and you're just hoping that the audience vibes with it. But I appreciate this crowd because they were so receptive and very warm."
Whether it was poetry reading, DJ spinning, singing or rapping, there was a range of seasoned performers ready to make a statement through their crafts. If there's anything that was stressed at HUES Fest, it was the significance of opportunity.
"It's also just showing people that you shouldn't forget about wimmin of color — an artist could be anyone," Daniels said. "It's not just the person that has the most privilege or the most access to exposure. There are lots of talented and interesting people creating amazing work, but they don't have access to get that out to an audience."
Mayyadda ended her set with an original song titled "Black is Beautiful," which she cites as a song that "God gave to me to comfort me." With an acoustic guitar in the background, Mayyadda used her soulful voice to remind the audience that being of color is a beautiful thing.
For those present at HUES Fest, having a voice will only empower an individual, a community or even a whole nation.
"We need to be heard, and it's incredible of HUES to put together this festival," Osborne said. "This event is about learning how to create beauty in art out of pain, and we have so much pain. And that just means that we have all the more to create, and that's beautiful."