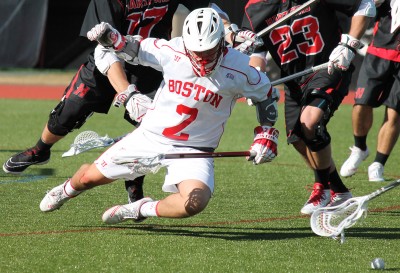 If there was any doubt as to how the Boston University men's lacrosse team would fare Saturday afternoon against Lafayette College, those notions were quelled early and often.
In what marked BU's (8-2, 3-1 Patriot League) most comprehensive performance of the year, 11 different Terriers scored en route to a 16-6 victory over the Leopards (1-7, 0-5 Patriot League) in Easton, Pennsylvania. The starters opened up a 9-1 halftime lead, 43 different players received game time and a 13-goal lead was established with 8:58 remaining in the contest.
While Lafayette sits near the bottom of the Patriot League standings, BU head coach Ryan Polley said he is proud of his team's ability to avoid complacency and produce an emphatic start.
"I just thought the whole team did a great job both offensively and defensively, facing off, learning the ball, riding the ball," the third-year head coach said. "It was a complete win, and I was pleased with the way we played. Overall, it was a huge team effort with a lot of contributors."
The Terriers outshot Lafayette 19-6 in the first half, and the most consistent threat was freshman attack James Burr. He scored four times across the game's first two quarters, the best of which came on a shoveled shot from his knees and a left-handed rip under goalkeeper Ben Falcone's crossbar.
As things stand, Burr has 20 goals on the year and proved against Lafayette why he was named Patriot League Rookie of the Week on Feb. 29.
"James is a complete goalscorer, and he finds so many ways to score," Polley said. "You think about his four goals, he can score in a variety of different ways. He has a knack for the net, and guys know to look for him. If they give him a good pass in a good position, he's most likely going to cash that in."
The midfield line of junior Chad Bell, sophomore Greg Farris and freshman Michael Laviano continued to offer BU unparalleled depth, as they combined for two goals and two assists on the day. The Terriers' top unit of juniors Cal Dearth and Pat Myers and freshman Brendan Homire also amassed four goals and two assists.
BU also controlled the faceoff dot, with sophomore Joe Stucky, junior Sam Talkow and senior Elliot Burr winning a combined 21 of their 26 draws.
As efficient as BU was in possession, arguably the most impressive aspect of its performance was on defense. BU won the ground ball battle by an astounding 50-27 margin, caused 22 Leopard turnovers and let Lafayette clear only 13 of 19 such attempts.
"We have some players that are very athletic and can make plays from the defensive end," Polley said. "When we're playing our defensive scheme properly, you're supporting one another and supposed to be in passing lanes. I think we did a great job of that, and when Lafayette tried to throw the ball through our defense, we got deflections, we got interceptions and guys made some terrific plays."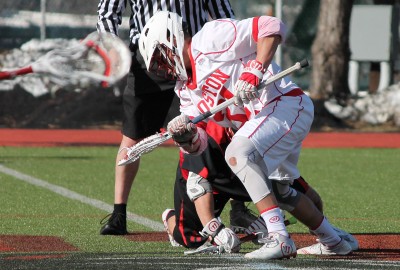 Looking down the road, an encounter of two elite Patriot League squads will unfold when the Terriers host Lehigh University next weekend on Nickerson Field. The Mountain Hawks (5-3, 3-2 Patriot League) will pose a far sterner test, and this is not lost on Polley.
He urged that his players won't take its recent "complete team effort" for granted, but the time to recalibrate and prepare starts Monday at practice.
"Lehigh is a great team, so we'll have to be at our best if we want to be on the right side of the scoreboard," Polley said. "Our guys will definitely be ready, and we understand the gravity of this game. We look forward to hosting those guys, and it's going to be a battle."