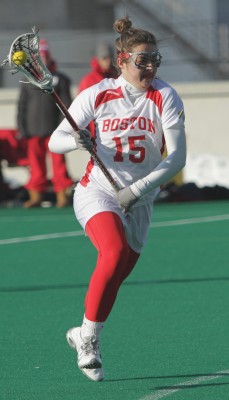 The Boston University women's lacrosse team failed to sustain an early two-goal lead Saturday afternoon over Loyola University Maryland, eventually losing 10-6.
While it was the Greyhounds (6-4, 3-0 Patriot League) who struck first just over a minute into the half on a free position shot by attack Hannah Powers, the Terriers (4-5, 2-1 Patriot League) rebounded with three unanswered goals in the match's first 10 minutes.
Senior attack Mallory Collins scored BU's first to tie the game 1-1 on a top shelf shot after a pass from senior midfielder Remy Nolan. Junior attack Taylor Hardison followed with her first goal of the season on a quick shot from the edge of the crease. Senior midfielder Jill Horka then put the Terriers up 3-1 on a free position opportunity.
"I think the mentality of the team, of being aggressive and attacking, was something we talked about in pregame," said BU head coach Liz Robertshaw. "[Loyola] has a solid defense and a good goaltender, and they try to push you out. I felt like we wanted to combat that and be aggressive against them."
That BU success, however, was followed by complete offensive domination by the Greyhounds, who called a timeout after the Terriers' third goal to regroup. The timeout did its job, as Loyola responded with three unanswered goals.
"I wish I knew," Robertshaw said. "I thought our attacking unit started getting in their heads for whatever reason, I don't know. We're going to address that as a team, but I just think they started to slow down, they started to rush their shots and some people got nervous."
Loyola midfielder Sabrina Tabasso cut the Terrier lead by one with almost 11 minutes expired in the first half. She cut through the BU defense and deked junior goalkeeper Caroline Meegan with ease.
Greyhound attack Cami Whiteford then tied the game on a free position opportunity on BU's eighth foul of the contest. Tabasso reclaimed a Greyhound lead after finding another hole in the BU defense.
"We turned the ball over two or three times," Robertshaw said. "We got really tight instead of staying loose and just playing the game."
Halfway through the first frame, BU tied the matchup on Nolan's sixth goal of the season when she fired home a free position opportunity. However, Loyola came right back before the end of the half to score and take a 5-4 lead into the locker room.
The second half posed more problems for the Terriers, as Loyola opened with two goals in the first 15 minutes to erect a 7-4 lead.
The Terriers gained momentum via a free position goal by Collins with 12:38 remaining, but Loyola fired right back on midfielder Emily Clark's shot. BU found net once more through a free position strike by senior midfielder Ally Adams, but it wasn't enough to stage a comeback.
Loyola scored two more goals before the game's end to give the Terriers their first conference loss of the season. After Saturday's result, BU falls to fourth place in the Patriot League standings, while Loyola stays afloat in the top position.
"I just want them to learn from this," Robertshaw said. "For us to continue to do well in the Patriot League and in the season in general, we have to take it and learn from what we can do better and then move forward."