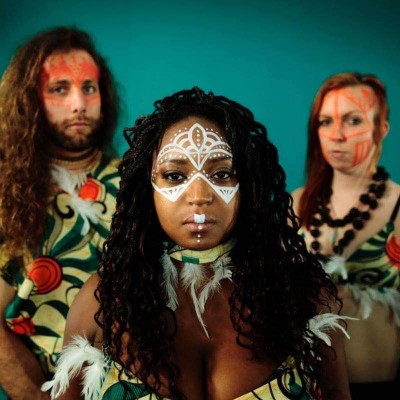 When was the last time you listened to an album with feminist undertones? Probably pretty recently, given that feminism has become an incredibly strong movement, leaking into the music industry. Now, when was the last time you heard an album about West African voodoo with feminist undertones?
Vodun's debut album "Possession," is an otherworldly collection of tracks, compiling a distinct sound described by Vice's Noisey as "heavy metal-tinged, hard-charging afro-psych." Describing this concept as intriguing is an understatement.
Vodun, which the band is named after, is a West African voodoo practice, a spiritual religion that traveled during the African Diaspora to places such as Haiti and Louisiana, where it took root and thrived.
To this day, Vodun exists as a powerful force and passionate belief system for a lot of people. While the band itself hails from London, it uniquely captures the essence of Vodun through its music and succeeds in making it sound like it's been immersed in the culture from the start, hundreds of years ago.
Lead singer Oya's vocals are commanding and captivating, almost angelic at points, making some tracks sound like prayers even with more intense metal instrumentals.
The threesome, with Ogoun on drums and Marassa on the guitar, works well as a collective unit as the album progresses. The opening track, "Loa's Kingdom," is an insane melting pot of sounds with heavy guitar riffs on top of vibrant operatic vocals, and yet somehow it's inviting. It feels like calculated chaos, leaving the listener wondering what on earth could come next.
Many of the lyrics on the album are poetic and enticing. The first verse of track "Bondeye" features expressive lyrics such as, "Stars come to me and speak / Gentle in my dreams" with heavenly high falsetto vocals. The record tells tales of spiritual journeys and being one with the earth and oneself, and that no one, regardless of aspects such as gender or race, is better than another on a spiritual level.
The album, unsurprisingly, has a theme of possession and projects this through instrumentals. "Bloodstones" is a little calmer at the start but shows a change of pace from hard instrumentals when it picks up halfway through. The volume goes back and forth dramatically between loud and soft — it sounds almost like there are two forces in the mix, one normal and one supernatural.
"Loko" is a 30-second transitional track that consists of nothing but clicking and unrecognizable sounds, and that matches up well with the next track, "Legba's Feast," which features eerie moans as vocals.
Some tracks are slightly funky or soulful, all the while maintaining metal instrumentals. These toe-tapping genre-mixers are complicated, but they work well. Each member of the band has a persona, first in their unique names, but also personas that you can hear in their instrumentals and vocals.
According to the band's website, the drummer Ogoun's drumming is supposedly "unforgiving, like the crack of a whip." Guitarist Marassa conjures up "a tidal cacophony with his fingertips that wails and thunders into the resonant mountains." The creation of these personas shows the band's passion and is best exhibited on track "Divinity," which features complex and twisted drums and instrumentals.
At the end of "Minos Army," the vocal harmonies sound like a choir, providing an almost pious result. The listener cannot forget where the band is coming from — there's history at the end of some tracks.
There's a focus on slavery during the French Revolution at the end of "Minos Army," and there are lessons on the punishment of using voodoo, usually violent and disturbing, at the end of "Divinity."
If you're looking for something new to listen to, look no further. "Possession" is unlike anything out right now. Some parts of it genuinely feel like an opening of the soul, a religious experience, even if one is just listening to the album on their couch or walking down the street.
A generally spooky and sometimes confusing record begins to close with "Kanpay Rejecte," a six-minute finale, ending in static white noise. The band has stated that its influences are "the crushing noise of the spirits," and for that reason, "Kanpay Rejecte" is the perfect way to describe this psychedelic and woozy listening experience.