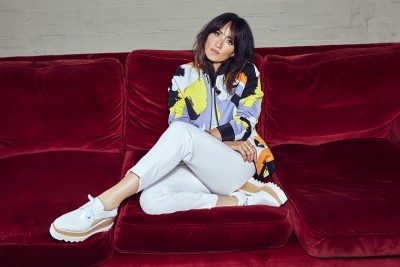 Upon hearing the name KT Tunstall, you probably think of classic 2005 soft rock hits, "Suddenly I See" and "Black Horse and the Cherry Tree," but that's not nearly all Tunstall has to offer.
Tunstall released her fifth studio album "KIN" on Sept. 9, and is embarking on her latest tour this week, including a show at Royale in Boston on Saturday.
Both her tour and album represent a period of growth for Tunstall. While her past albums have been categorized as rock or folk, her new album embraces the power-pop movement, utilizing Tunstall's knack for catchy, toe-tapping beats and reworking them into new ground for the singer.
"KIN is maybe the most bombastic [album] that I've written," Tunstall said in a phone interview with The Daily Free Press. "There are definite similarities to the first album that I put out, but I'm in a very different place now where I have a confidence and mojo that I've never had before. I'm so comfortable in my own skin in a way that I haven't been when putting out records in the past."
Tunstall said she wrote her newest album with the intention of letting her emotions out of the box she put them in for most of her career after her early successes. Many tracks, including "Turned a Light On" and "Love Is an Ocean," provide poignant lyrical insights to Tunstall's thoughts and feelings.
"My writing [on previous records] was observational," Tunstall said. "I was telling stories about other people and the way other people felt. I had to realize if I'm going to make albums, I need to be vulnerable. It's one of the most important parts of my job as a songwriter. The beautiful sweet spot of writing songs is to be as vulnerable as possible, but yet to have all of your strengths and feel strong at the same time and allow yourself to be vulnerable within strength."
One track, appropriately named "It Took Me So Long To Get Here, But Here I Am," seems to capture her experience as an artist to a T. It also happens to be one of Tunstall's favorite songs to play live, along with her classic "Suddenly I See".
"Playing 'Suddenly I See' is an amazing experience because the energy always raises up a little bit more," she said. "The song means a lot to people, and it's the song that they recognize the most, and it's such a galvanizing song for the whole crowd and everyone loses any inhibition that is left."
About half of the tour setlist will be songs from "KIN," Tunstall said, but old tunes will be mixed in as well. Tunstall said her newly emerged confidence has allowed her to feel more comfortable being the boss. This time around, she has more say in the production value of her live show for the entire tour.
"I have the drive back that I had when I first started out, and I really want to see what can happen," Tunstall said. "I'm exceptionally excited about being in charge, and part of that is being involved with every single aspect of how this show goes down. One of the things I'm most excited about is just seeing what the potential is for this tour, album and for me as an artist."
Tunstall has many things she's looking forward to as the start date of her tour gets closer, including making each show unique by testing out songs and consistently changing up the setlist. However, she seems to be most excited about making connections with her fans now that she has come out of her personal shell.
"I think I'm most excited to really see the progression of fans getting to know this music," Tunstall said. "Now that the record's out, I'm watching slowly over time and seeing more and more people in the crowd singing the words to the songs. Us sharing those sentiments and feelings together is a really cool thing."