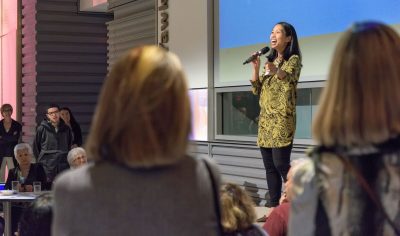 Did you know Johnny Depp used to be a telemarketer who sold ballpoint pens?
This was the answer to a trivia question at WGBH's BostonTalks Happy Hour: Odd Jobs Thursday night.
The night featured a three-person lineup that included offbeat jobs, atypical passions and everything in between. The conversation ran from taking a hobby to a profession, combining passions and not hiding behind the average degree.
Jeff Del Papa, the founder of The New England Rubbish Deconstruction Society, or "The NERDS," began the night with a demonstration.
Del Papa stood next to a stool-sized, rusted metal contraption in the middle of the room. The invention ended up being a giant coin flipper, a probability game that flips accurately — and something he has tested over 500 times in the past.
"I don't necessarily care how pretty [my creations] look, most of the stuff I build would fit just fine on a 'Mad Max' set," Del Papa said, in reference to his past work.
Del Papa and The NERDS team recycle items from junkyards to create new, reworked inventions. The team, based in Cambridge, was the first American team to compete in the "Scrapheap Challenge" on a British TV show called "Junkyard Wars."
After the show, Del Papa said he wanted to keep creating, so he now builds inventions on commission. He also said he works with elementary school students to help them learn how to use tools and build.
His endless urge to construct pushed him to turn his hobby into a full-time career, Del Papa said.
"I've heard a lot of artists give interviews and one of the things they always say is how they can't not paint or sculpt," he said. "It's a compulsion, and to be honest, I'm the same way. But in my case, it has to be build or fix things."
After Papa's multilayered talk, Grace Teo took the stage to discuss Open Style Lab, the program she co-founded.
Teo said she originally wanted to be a makeup artist, but eventually decided to go to school for engineering to learn the behind-the-scenes of design and the creation of makeup. After getting her Ph.D. in Health, Science and Technology from the Massachusetts Institute of Technology, she has circled back to design.
Open Style Lab is a combination of her two passions, she said. The lab is an educational research program that runs for 10 weeks and combines designers, engineers and occupational therapists to make more accessible fashionable clothing for people with disabilities, according to the website.
Teo said she came up with the idea after meeting a patient in a hospital with multiple sclerosis who used an electric scooter. Teo asked her what she missed about being healthy, and was surprised by the woman's answer.
"I thought she was going to say 'I miss being able to move around,'" Teo said. "Instead, she turned to me and she said, 'Not being able to get around isn't that big of a deal. What I really miss is my independence.' She told me her husband was on a business trip, and it took her one hour to put her clothes on that morning."
The program has created more than 20 designs, according to Teo. These designs include a stylish jacket that becomes a poncho so wheelchair-users don't get their laps wet when it rains, as well as a shirt with seams in the back, so autistic people who are sensitive to seams are more comfortable in their clothing, she explained.
Samantha Gauvin, 27, of Cambridge, is a certified occupational therapy assistant and said she was drawn to the event to learn more about Teo's business and methods.
"I recognize how important it is for an individual with a disability to have the ability to express themselves," Gauvin said. "And have not only their functional needs met, but also their personal identity needs met. I love that idea."
The final speaker of the night was Kelle Sutliff, a psychic medium and investigator, author and former radio-show host. Sutliff uses her clairvoyance and intuition to help private investigators, families and National Missing Persons Organizations with missing person cases, according to her website. She also worked with Boston University on the Cold Case Collective Group.
Sutliff said she is a conduit to "the other side," which allows her to see spirits and connect people to loved ones who have passed. She also helps people by consulting them about finances or business decisions.
But Sutliff, as with many people with an unconventional career, hasn't always been totally confident with telling people about her path, she said. However, as the work continues to ebb and flow, people like Sutliff are starting to embrace their atypical jobs.
"You never raised your hand to say you were a psychic medium when I was growing up," Sutliff said. "Even 15 years ago I would go to a cocktail party and people would say 'Kelle, what do you do for a living?' and I would hide behind my real estate license. Thank goodness it's more accepted today; we're more open to it."