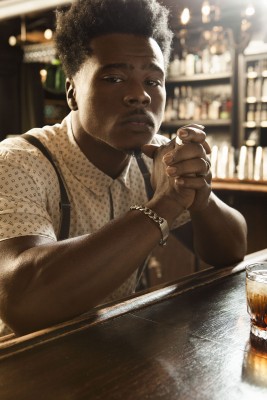 Earl St. Clair started out behind the scenes, writing for and working with artists like Organized Noize and CeeLo Green. Now, he's starting to peek out from around the curtain.
St. Clair's writing credits are spread out all over. He's the featured vocalist on Avicii's "Pure Grinding for a Better Day" that appeared on EA's video game "Need for Speed" in 2015. He also wrote Rick Ross' track "Very Best," which featured Mary J. Blige, and has had his singles featured on award shows and commercial promotions.
After hearing one of St. Clair's songs, it's clear why he was pulled out from the background. St. Clair released his first single "Man On Fire" in August, and is currently working on a full-length EP titled "Songs About A Girl I Used To Know." However, St. Clair started his career on a more low-key level — at a family barbecue when his cousins were working on beats at their computers.
"I had never thought before about how it all was made, what the process was or who did it — I just thought music was music," St. Clair said in a phone interview with The Daily Free Press. "That day, I sat down and I never got up from the computer until it was time to go. 2004 was when music found me."
St. Clair's tracks are upbeat and brass-heavy, creating a mesh of blues, R&B and jazz, taking established genres and twisting them into something new. His voice is somehow both gravelly and silky on "Man On Fire" as he croons soulful lyrics. St. Clair's writing style revolves around catharsis, letting his emotions run free in both his lyrics and his instrumentals.
"I don't really talk about things that I go through usually, but you have to let it out," he said. "Once I decided to really become an artist, I understood that I could voice how I felt through my music, and it was like getting it all off my chest. I'm able to joke about what I've been through. I'm able to relive it and deal with it."
St. Clair never expected to be a solo artist. He anticipated working as producer and co-writer for his career, he said. That path changed when he was signed to Def Jam Recordings this year. When asked what the most exciting part of his career so far has been, he answered simply — "everything."
In June, St. Clair performed on "The Late Show with Stephen Colbert," with up-and-coming artist and label-mate Bibi Bourelly to perform her sultry and tender single "Perfect," which features St. Clair. When discussing the experience, St. Clair's tone becomes animated and enthused, like you can hear the smile on his face.
"Once you start performing, it's crazy because you're performing on TV," he said. "You're performing on live TV! You have a crowd in front of you, and they're going to applaud regardless because the screen is going to tell them to applaud. But when you can look out and see people nodding their head and tapping their feet to the music, then you know they really like it and it's just amazing."
One of St. Clair's main goals as a performer is to have a unique performance. He said he hopes to have one of the best live shows out there right now. He wants to consistently surprise audiences with more of a show than just someone singing stagnant onstage.
"I want my show to be as entertaining as a staged play," St. Clair said.
St. Clair mixes drive and experience with anticipation to make fans and casual listeners alike pay attention and listen. Even with just one digital single out currently, he is starting to get audiences excited.
When asked about his plans for his performances, St. Clair became suddenly secretive.
"I don't want to give it away. I might have to keep that one a secret," he said with a laugh. "But, I can say I think it'll be something very, very, very, very original."