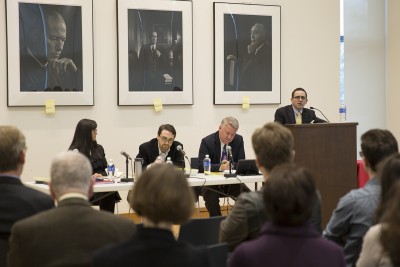 What happens when religious practices are called into question because of harm to the environment? Which is more important: the freedom of religion or the preservation of our home?
Jay Wexler, a professor in Boston University's School of Law, held an on-campus lecture Monday regarding his latest nonfiction novel, "When God Isn't Green." The memoir tells the story of his recent travels across the globe, as he studied a topic that he said is "unheard of, yet interesting" — the conflict between the freedom of religion and environmental protection.
As a law professor and author, many others know Wexler as a lively humorist who adventures around the world. He told The Daily Free Press that he enjoys "having fun and being funny through law."
"You know, I visited all of these places myself, places like Singapore and Mexico, and it was really just interesting," he said.
At each location he traveled to, Wexler analyzed the dynamic of religious practice as well as environmentalism. In many instances, these two vital aspects of our culture collide with one another, and he was interested in how society dealt with and prioritized these issues.
"We harm the environment in many different ways, many that haven't been heard by individuals before," Wexler said.
Specifically, certain religious practices have been harming the environment unknowingly, yet who is to say that these religious practices should be prohibited? The importance of this novel and the lecture, in his opinion, was to share his research and open the eyes of others to the complex problems our world currently faces.
Wexler studied a wide selection of religions on his trip. Throughout his book, he reveals the unnoticed ways that religion conflicts with the safety of the environment. Fireworks, for example, are widely used in festivities such as Chinese New Year celebrations, the Muslim holiday Eid-al-Adha and the Hindu festival Diwali, but they are more corrosive to the environment than many expect. Wexler uses humor to tackle these issues in his book.
"Unfortunately, for those of us who need to breathe air in order to live, the smoke caused by fireworks can be quite dangerous," he writes in his book.
As for the lecture, Wexler said his presentation would be more of a "casual conversation" rather than an academic discourse. After three distinguished guests presented their comments on his book, there was to be additional time for other guests to comment or ask questions.
Wexler said lecture was to be an open discussion about religion and environmental protection. Since he knew the majority of his guests, Wexler said that he would feel comfortable speaking truthfully and plainly about his experiences, his opinions and the debate of religion versus the environment. He was confident that most of the attendees would have a similar interest in environmental law or religious studies.
"I'm actually Facebook friends with everyone that we invited," he said.
Although many of the attendees know Wexler on a personal level, he hoped that others would also come and join the discussion.
"Any person at all is welcome to come, and hopefully they will," he said.
Aside from promoting his novel, Wexler is interested in getting to know new people on a casual level, and converse with them about any questions or comments they may have for him.
Ultimately, Wexler aims to make an impact on this difficult conflict, and he emphasizes this idea in his book.
"I hope that I will have shared not only a collection of strange and entertaining stories, but also a set of insights that can help people on both sides of the religion-environment divide navigate these conflicts whenever and wherever they arise," he writes.