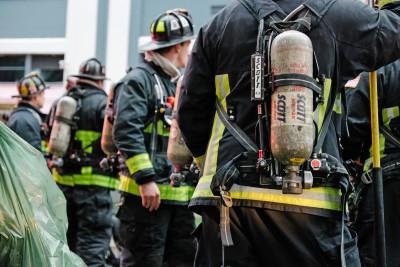 The Boston City Council voted unanimously Wednesday to modify the city's Fire Prevention Codes, allowing public buildings equipped with sprinkler systems to purchase furniture that is not necessarily coated with flame retardant chemicals, according to a Wednesday press release.
The measure, sponsored by City Councilor Josh Zakim, will protect people from the harmful chemicals, which are often found in furniture. The chemicals used in flame retardant furniture are connected to health problems, including cancer and thyroid disruption, according to the release.
Boston is the only city that still uses a flammability standard that is more than a decade old, according to the release.
"The ordinance passed today will allow the city to follow a newer standard that has been widely adopted across the country," the release stated.
Zakim said in the release that this measure is very important to maintaining public health standards in the city.
"By eliminating needless exposure to these harmful chemicals we are creating a healthier environment for both our fire fighters and those who visit and work in our public spaces," Zakim said in the release.
Kyndal Henicke, deputy chief of staff for Zakim, said they worked closely with the Boston Fire Department to figure out a solution.
"Anytime you're updating a standard, you want to make sure that [BFD] is on board and that they agree with the change," Henicke said. "Even though it took a little longer than we wanted it to, we were able to achieve it."
John Dempsey, deputy fire chief and fire marshal for BFD, said the old standard, California Technical Bulletin 133, is an open-flame experiment used to test flammability of upholstery in public buildings that often use many chemicals.
The new system, called Technical Bulletin 117-2013, would possibly eliminate the need for chemicals, Dempsey said.
"TB 117-2013, according to the furniture manufacturers, requires a lot less of these harmful chemicals," Dempsey said. "In fact, they might not even have to use these chemicals if they use a barrier type of technology."
Dempsey said firefighters will have a lower risk of exposure to the harmful chemicals and lower risk of developing cancer.
The release stated that firefighters are three to four times more likely to develop cancer than an average citizen. Dempsey added that removing these chemicals from public buildings will help reduce this risk for firefighters.
"We have a high amount of Boston firefighters who have come down with cancer," Dempsey said. "If we have a lower amount of chemicals in there, we are hoping that it reduces the risk of cancer among firefighters and the general public."
The bill awaits Boston Mayor Martin Walsh's signature, and would take effect 90 days after his approval.
Boston residents were overall pleased with this new measure.
Evan Witt, 41, of Back Bay, said he believes it's important to make sure firefighters are healthy.
"Making sure that firefighters are safe and healthy is important, because they're the ones who are meant to keep the general public safe," he said. "If they aren't in good shape, then neither are we."
Renee Allen, 29, of East Boston, said the unanimous passing of the measure shows the cooperative nature of Boston's City Council.
"Not only does the passing of this bill show that politicians actually do care about the health and the quality of life for [their] people, but it also proves that they can work together to actually get something done," she said.
Other residents were concerned about the amount of time it took for this measure to be passed and the Fire Prevention Code to be updated.
Jason Kaczynski, 32, of the North End, said he was surprised to know that Boston was behind in keeping up with this standard.
"It's obviously great that City Council is doing something about this," he said. "I'm concerned that this might not be the only public health or safety standard that Boston is not up to date with."
Kyler Sumter contributed to the reporting of this article.