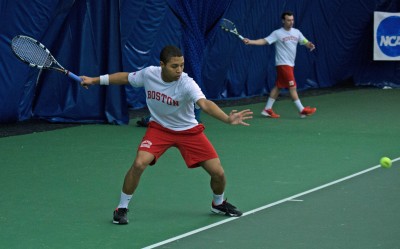 The Boston University men's tennis team spent the past weekend in upstate New York battling at Skidmore College and Colgate University. After falling 7-2 against Skidmore, the team rallied the next day to defeat Patriot League foe Colgate 4-3.
In a back-and-forth affair against the Raiders, the Terriers won two doubles matches and three singles matches. Junior Lucas Bombonatti and freshman Satyajit Simhadri secured straight-set victories in their single spots.
This set up a dramatic final singles match between BU senior Stefan Lemire and Colgate's Nick Laub. After dropping the first set in a tiebreaker, Lemire responded by winning the next two sets 6-2 and 6-4 to clinch the victory for the Terriers.
BU now has some momentum as it heads into the final stretch of matches before the Patriot League Tournament at the end of April.
Women's tennis wins on Senior Day
Following an emotional Senior Day ceremony, the Boston University women's tennis team defeated the University of Connecticut 6-1 last Thursday.
The Terriers won two doubles matches and four singles events in straight sets to finish the season a perfect 4-0 at home and bring their overall record to 7-7.
Two-time Patriot League Player of the Year and senior Johanna Hyoty won at both the top singles and doubles spots.
Fellow classmate and three-time All-Conference First Team honoree Lauren Davis dropped only one game in her final home singles match victory. Junior Barbara Rodriguez also won both her singles and doubles matches.
The Terriers will hit the road for the final three matches of the season before the Patriot League Tournament begins at the end of April.
Women's rowing starts season in Beanpot Regatta
The women's rowing team competed in their first event of 2016 Saturday in the annual Beanpot Regatta on the Charles River.
Competing against neighboring rivals Boston College, Harvard University, Massachusetts Institute of Technology and Northeastern University, all three of BU's varsity eight boats and its varsity four boat came in fourth place.
The first boat was coxed by junior Marlaina Miller and stroked by classmate Kerri Wegner. It finished in seven minutes flat, far before MIT's time of 7:17.1.
The Regatta provided the Terriers with a foundation to improve upon as they enter the spring slate. They will next compete against Syracuse University in Saratoga Springs, New York for the Kittel Cup.