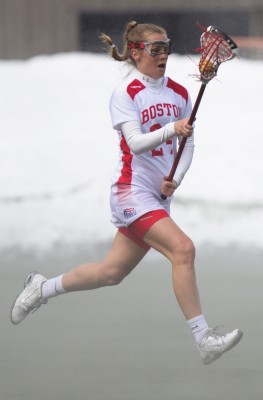 Looking to bounce back from a 10-6 defeat at the hands of Loyola University Maryland, the Boston University women's lacrosse team will head to Hamilton, New York to take on Colgate University Wednesday night.
The Terriers (4-5, 2-1 Patriot League) started strong in their loss against the defending Patriot League champions Loyola (6-4, 3-0 Patriot League), but their early two-goal lead disappeared by halftime.
Despite the setback, BU head coach Liz Robertshaw said her team can take a lot away from the loss against one of the top teams in the conference.
"We've shown we can play really strong defense and adapt as a unit, whether it was the officials or how Loyola was coming at us," Robertshaw said. "On the offensive end, we learned that we really need to bring our best game. We had a lot of great looks, we just didn't finish them."
BU will look to replicate performances from senior attack Mallory Collins, who scored two goals against the Greyhounds, as well as senior midfielder Remy Nolan, who notched a goal and an assist.
The Terriers have been most effective in 2016 when they spread the wealth on offense. Senior midfielder Ally Adams leads the team with 24 total points and 34 shots on goal, while sophomore attack Mickenzie Larivee has a team-high 20 goals. Junior attack Taylor Hardison has 18 assists — double the amount of the second-highest Terrier.
In addition to the team's statistical leaders, senior midfielder Jill Horka, sophomore attack Avery Donahoe and Collins have at least 12 points on the season. Robertshaw acknowledged BU's plethora of playmakers but still hopes to see improvement as the season progresses.
"I think it shows we have a lot of players that are willing to step up in different moments," Robertshaw said. "I think the next step is to keep all of those goal-scorers and assisters moving up in the point categories. We may have seven scoring threats, but we need to up our point totals a little bit more."
On the defensive side, junior goalkeeper Caroline Meegan leads the Patriot League in saves per game, and this should give her an advantage against the Raiders. They rank in the bottom half of the Patriot League in nearly every offensive category.
Their unquestioned offensive leader is midfielder Isabelle Kreitler. The Fairfield, Connecticut native tops her team in goals and points and is second in assists. Complementing Kreitler is Lauren Gorajek, the reigning Patriot League Attacker of the Week. Gorajek earned the honors after a four-goal performance against Lafayette College.
Robertshaw admired the talent on the Raiders squad, yet she was confident that her team will be prepared.
"We, in the past, have struggled a little bit against Colgate," Robertshaw said. "I think we need to go in with a fresh mindset that we need to bring our best game, that we want to go attack them as well as playing lockdown defense. They have a couple of goal-scorers who are playing really well, and we want to make sure we lock up those players."
Robertshaw also added that Wednesday's clash could set the stage for a deep run in the conference.
"Now that we're in conference games, it's really important that we go at them and that we're focused," Robertshaw said. "Our players have some high goals for themselves, which I love and 100 percent support. One of them is winning the conference, and I think there's a great chance for us to give ourselves an opportunity to get to the tournament and championship. This is a big game for that, to show that we that we can go on the road, that we can play a great game as a team and come out with an outcome that we're looking forward to."