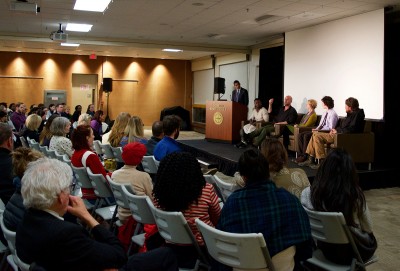 Public health, journalism and the arts are often regarded as relatively separate fields, but a talk on global poverty Thursday night at the Boston University School of Medicine illustrated how these fields, as well as humanity as a whole, are more intertwined than one might believe.
"Ending Poverty by 2030: Fantasy or Attainable Goal?" was the latest of BU's annual "Global Health Storytelling" discussions sponsored by the College of Communication, the School of Public Health and the Center for Global Health and Development in partnership with the Pulitzer Center on Crisis Reporting.
Despite the name, the talk did not truly decide if it is possible to eliminate global poverty by 2030, as the United Nation's Sustainable Development Goals seek to do. Jacob Bor, a professor in the School of Public Health, suggested that while it is unlikely, that goal could be achieved if global poverty continues to decline as it has done in the past two decades.
Sandro Galea, the event's moderator and the dean of the School of Public Health, had a less optimistic outlook for the roughly 836 million people currently living in extreme poverty, or for those making less than $1.25 per day.
"Let's be clear that we're not going to end poverty by 2030," Galea said while addressing the crowd. "It's just not going to happen."
The panelists were more hopeful, however, about the possibility of art and journalism bringing awareness to poverty and health disparities. The night included a partial screening of "Circus Without Borders," a documentary about two circus troupes from geographically opposite places of the world — Nunavut, Canada and Guinea in West Africa — but marked by similarly dire social problems.
"We thought if we can … intertwine their stories, then we can get this picture of humanity being about more than what you look like and that we have a lot in common," said Susan Gray, the film's director.
In the film, Guinean troupe Kalabante challenges the lasting effects of poverty and political unrest in a postcolonial society. Inuit troupe Artcirq is not grappling with financial destitution, but rather, according to producer Linda Matchan, the Canadian government's "spiritual and cultural rape of the Inuit people" and the ever-present consequences, particularly suicide.
Despite the importance of Artcirq's story, the troupe was initially wary of the American filmmakers after the United States' history of forced cultural assimilation, Matchan said.
"They weren't welcoming to white people who wanted to come in and 'tell their story,'" she said.
Similar controversial issues of race and voyeurism were discussed throughout the night.
During the panel's ending discussion, Guillaume Saladin of Artcirq and Yamoussa Bangoura of Kabalante spoke about how we might better address poverty. Their responses expressed that Western activists often let their own ambition get in the way of helping people in the best method possible.
"With this desire of trying to do something good, we [white activists] have done horrible things over the last 60 years," Saladin said.
Bangoura applied Saladin's words to his own experience leading Kalabante.
"Why [activism] is not working is because people just impose things," Bangoura said. "I just ask them what they want to do and then help them do that. They know their reality."
Californian photojournalist Matt Black was another storyteller at the discussion trying to bring awareness to poverty, but through his photography. For the past two and a half years, Black has traveled the United States photographing communities that have a poverty rate of more than 20 percent.
The whole project was done on Instagram, inspired by the app's geotag feature and necessitated by the difficult status of journalism, Black said.
Black's project portrays the stark reality of poverty in dramatic black and white. In one, a man sits in the only tiny sliver of shade on a sandy shore in Calexico, California. In another, a girl from Modesto, California stands close to the camera, but her face completely obscured in shadow.
"This project is about not about findings differences, but finding common ties," said Black, who later pointed out that the kinds of poverty he photographs probably exist in the neighborhood surrounding BUSM.
Eva Zaret, a second-year graduate student in SPH who volunteered for AmeriCorps for more than two years, was most taken by the ability of art like "Circus Without Borders" and Black's photography to address poverty.
"Art helps express these really intricate problems in a way that you can't always express in words, and that overcomes language boundaries," she said.