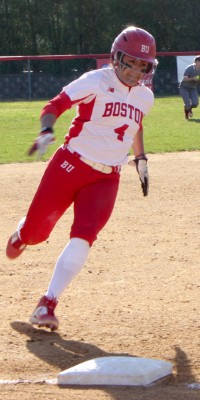 With a rough outing on the basepaths, the Boston University softball team fought hard Wednesday in a 5-4 extra-inning loss to Boston College.
While the team could not best its Commonwealth Avenue rivals, there were some solid takeaways for the Terriers (11-16, 0-3 Patriot League), who faced a tough ACC opponent in the Eagles (19-13).
For example, this game would not have even made it to extra innings without the help of junior first baseman Gabi Martinez, and BU head coach Ashley Waters knew that she had a hot bat from her composure in the batter's box.
"She had great presence at the plate," Waters said. "There was definitely some confidence and trust in her play today."
The Weston, Florida native hit 3-for-4 on a day when BC had two of its top aces on the mound in sophomores Jessica Dreswick and Allyson Frei, who struck out nine in the game. Along with a solid performance at the plate, Martinez scored once and put out three on the field.
Her last hit of the game kept the hopes of a comeback alive for BU. With Frei coming in relief for the Eagles in a 4-2 game, the bottom of the fifth started out with sophomore third baseman Kaitlin Sahlinger getting hit by a pitch on a one-one count.
In came Martinez, who had two singles earlier in the game, to face a pitcher still finding her stride on the mound. After three pitches, Martinez belted one to deep center field, and the stadium knew it was well on its way over the fence. It became a 4-4 ballgame, and the score would remain that way until extra innings.
A shot like that was what the former Patriot League All-Conference Second Team honoree needed to get back into her groove after a rough start to her season. Because of her past, her head coach knew that she had the work ethic to return to her mid-season form.
"Gabi works incredibly hard," Waters said. "The start she had was not the start that she anticipated, but it is something she had to work through."
Despite coming into this game batting only .186, Martinez has stayed in the BU starting lineup and rewarded her coach's faith and reliance. She showed promise against Charleston Southern University back on Feb. 19, when she hit a solo home run late in the seventh inning in a BU loss to the Buccaneers (15-19) at the CSU Invitational.
In all, Martinez showed she had the mental toughness and confidence to send one over the fence against a strikeout machine in Frei. This type of mentality is something that Waters said she wants her team to have every game, regardless of the opponent.
"I really do believe that every single kid on this lineup, one through nine, needs to get up and have confidence that they can do something," Waters said.
Despite the loss, it seems as though the Terriers have back another upperclassman to rely on while the freshmen and sophomores make a name for themselves in the BU lineup. They also have someone with the knowledge and experience of breaking out of a slump, something that the Terriers will have to learn in as they prepare for a three-game weekend against Lehigh University after losing four straight.
Or as Waters puts it, it is something that is a part of the game of softball, and what separates the teams who end their season short and those who make a run at a conference title.
"The beauty of this game is that it is humbling," Waters said. "You can be great one day and terrible the next. And it is a matter of having that mental strength to have that ability to work through things."