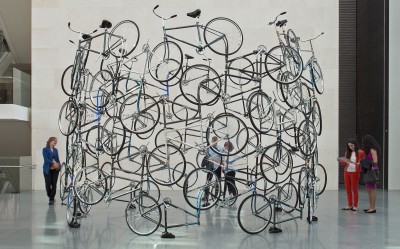 In the past 50 years, "megacities," those with 10 million or more people, have sprouted up all over the world, especially in Asia. As a result, artists have taken to the streets and started creating art from found objects that reflects heightened urbanization and population density in these cities.
"Megacities Asia" is the largest organized, contemporary exhibition at the Museum of Fine Arts. It highlights sculptural art made from found objects from five megacities in Asia — Beijing, Shanghai, Seoul, Mumbai and Delhi.
"There are certainly painters and photographers who are looking at the ways cities are morphing and the fluidity with which that has happened," said Al Miner, co-curator of the exhibition. "But the artists in this exhibition use the city not only as a subject, but also as a medium."
Currently, there are about 30 megacities all over the world, a majority of which are in Asia. The curators wanted to focus on these five cities, however, because they have seen a historic population boom in the last 50 years.
Laura Weinstein, the Ananda Coomaraswamy curator of South Asian and Islamic Art at the MFA, wanted to explore questions about what is happening in these cities that are experiencing a population spike and how artists are responding.
"There's something really unique happening in Asia in regards to urbanization," Weinstein said.
All of the works in the exhibit are made from found objects or other unconventional materials.
"What we see today are objects and materials that are not necessarily precious, but you'll see materials that are available on an enormous scale," Miner said.
Although most of the featured pieces will be housed in the MFA's Ann and Graham Gund Gallery from April 3 through July 17, there will also be a piece on the MFA's front lawn and a sculpture in Marketplace Center near Faneuil Hall.
One of the first works the viewer sees when entering the gallery is Delhi artist Subodh Gupta's "Take off your shoes and wash your hands," a piece that emphasizes the importance of materials. It's built completely from shiny, stainless steel kitchen racks, dishes and utensils. In addition to evoking an idea of Delhi's large population, it also raises questions about the food supply and how to feed 20 million people.
"Despite the fact that you have this huge, massive humanity packed together so tightly, there's not a lack of humanity," Weinstein said. "And instead, maybe you can think of it as these households connected to one another through food."
The piece also suggests religious and cultural customs that are attached to the kitchen in India, especially among Hindu families.
"The purity of the space is very important," Weinstein said. "For Subodh, these are objects that actually animate some of the fundamental practices and relationships in the family and in human society more generally."
Aaditi Joshi, of Mumbai, also uses found objects that play a large role in Indian life. In her piece "Untitled," she heated and fused together plastic bags to create a colorful sculpture.
"In Mumbai, you see a huge usage of plastic everywhere," Joshi said. "It was very natural for me to be inspired by this medium."
Most of the pieces in the exhibit, including "Untitled," invite the interaction and reaction of spectators.
"Walk around, walk into, climb into … interact [with the art]," Miner said. "When you're in a city of that size, you become acutely aware of how much space you do or don't take up. That's something Laura and I wanted as a key component of the exhibition."
One of the most interactive exhibits is Asim Waqif's "Venu," a bamboo structure held together with rope that viewers can walk inside of and touch.
"I think there's some sort of invisible barrier between the art world and the viewers," Waqif said. "In most industrial countries, the viewer has been trained so much in the act of viewing art that they are very passive."
Waqif is also interested in using bamboo because it's a very old medium, but it is still strong and holds up to modern design. Not a lot of people in India take advantage of bamboo, however, because of its old-world associations.
"There's an urgent need to start looking at traditional technology and experience, combine it with art and let the possibilities of industrial technology right now tell a more balanced way of living," Waqif said. "[I am] defying where the traditional ends and the modern starts."