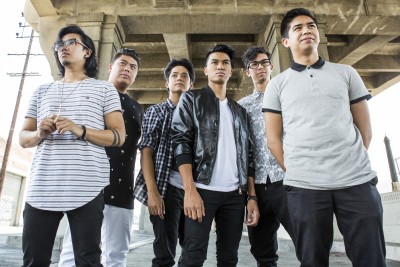 The Filharmonic, a Los Angeles-based a cappella group that played the ensemble "Manila Envy" in "Pitch Perfect 2," will perform Friday at Boston College. The group keeps in touch with its members' shared Filipino heritage while performing pop hits using just their voices.
The group originally caught the attention of the president of The Philippine Society of Boston College, BC senior Lemuel Lim, when the group made it to the semifinals on NBC's "The Sing-Off" in 2013. Lim said he was drawn to their "nationalistic pride."
"The main goal of the whole group was to tap into that Filipino culture and promote Filipino talent in the industry, because you don't see much of it," said VJ Rosales, a vocalist in The Filharmonic.
As a whole, members of The Filharmonic said they are happy to perform at BC because they like meeting Filipino clubs and societies. They said they enjoy being on tour so that they can meet new people and "engage different audiences."
"When we actually meet and greet with them, there's different personalities and different people," Rosales said. "Sometimes we meet new people who have heard us for the first time and are really supportive. Everything about the Philippines is very family-oriented, so it's cool to be a part of that whole culture."
The Filharmonic is visiting 64 colleges all over the United States as part of its "Get Up and Go Tour." Lim said he's glad the colleges are giving The Filharmonic a platform to "share their talent" and "put their name out there."
"They're passionate performers — it's obvious," Lim said. "No matter what venue they're given, they're very happy and very appreciative of the support they get."
PSBC also wanted to bring The Filharmonic to Boston because April is Asian Pacific American Heritage month at BC. PSBC collaborated with the student organizations Against the Current, a Christian a cappella group, and Black Experience in America Through Song, an R&B a cappella group, to set up this event with the goal of "spreading awareness and instilling appreciation" for Asian Pacific-American culture.
Lim said he liked how the "About" page of The Filharmonic's website lists where the members' parents are originally from in the Philippines. PSBC partly wanted the group to perform at BC because of the large role music plays in Filipino culture.
"They showcase our talent that we have in our community," Lim said. "Music is a huge part of our culture … It's not supposed to be by yourself, it's a celebration. They bring that part of their culture with them, too."
Trace Gaynor, a vocalist in The Filharmonic, said the group thinks a cappella is rising in popularity because there is "no hiding" and there is "something authentic" about having completely vocal music.
"No one goes into a cappella thinking [they're] going to be a huge rock star," Gaynor said. "It's cool being recognized by huge names in the industry."
Rosales said he enjoys singing a cappella because it is a unique art form and the group can have fun making music.
"No one in the industry really does a cappella, so it's cool to have a genre where we can be different," Rosales said. "Arranging for a cappella is really cool and really fun. We can get really creative."
One of the most difficult but rewarding aspects of being on tour as an a cappella act, Rosales said, is that the way the group sounds is completely dependent on the singers' voices.
"It's very exposed," he said. "When you see a cappella happen live, there's no backing track. It's all real. It's hard to do, and I think people see that and appreciate it."
Although the group has mostly done covers of popular songs, its next goal is to put out more original music and eventually make an album with only original songs. The Filharmonic already has one hit original song in the Philippines.
"We are trying to find songs that people will want to hear and also that we can put our own spin on," Rosales said. "Our ultimate goal is to go to those huge venues to get our own original music out there to represent our Filipino culture."