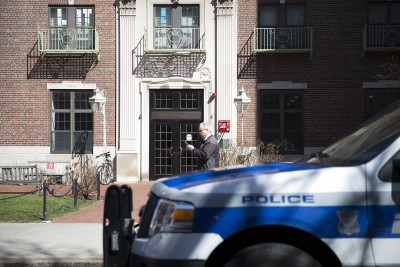 The Boston University administration and Office of the Residence Life in Kilachand Hall continued to provide counseling sessions and services for members of the community following the death of a student Wednesday morning.
David Zamojski, assistant dean of students and director of Residence Life, sent an email to Kilachand residents Wednesday evening and announced a community session held in the Kilachand Commons for students to be among their peers and offer support to one another.
"We wanted to bring students together in Kilachand Hall because the incident occurred here today and wanted to give [BU Police Department] Deputy [Director of Public Safety Scott] Paré a chance to share what he can about the status of the investigation," Zamojski said after the session.
Following the session, Zamojski estimated that just over 100 members of the BU community attended the session. Brother Lawrence Whitney, the Marsh Chapel university chaplain for community life, and Maureen Mahoney, director of the Sexual Assault Response and Prevention Center, attended the session and announced their availability as an in-residence counseling source in the Kilachand office for some parts of Wednesday night, Zamojski said.
Crisis counselors were available to students throughout the day Wednesday, and overnight clinicians are also on call for those in need, Zamojski added.
"We want to create a community of caring, and we want to support each other," Zamojski said. "We want to give students a chance to talk with counselors as they manage the feelings that they have about what had occurred."
The body of the BU student was discovered Wednesday morning at Kilachand on 91 Bay State Road. BU and the Boston Police Department are currently investigating the death, Paré confirmed.
The body belonged to a male student who did not live in Kilachand Hall, BU spokesperson Colin Riley said. BU Today reported that a resident assistant notified BUPD and BPD of the body at 8:30 a.m.
In an emailed letter sent to the BU community around 2 p.m. Wednesday, President Robert Brown said the student's identity would be withheld until an unspecified time out of respect for his family.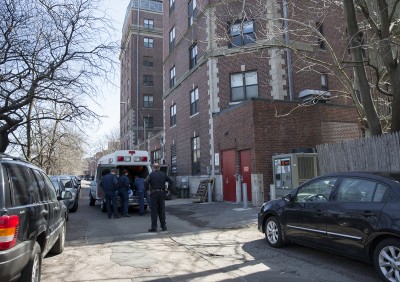 "I know that all members of our community will be mindful of the gravity of this loss and respectful of the privacy of a grieving family," Brown wrote. "We cannot at this time offer additional information about identity or circumstances."
Charles Dellheim, director of the Kilachand Honors College, and Zamojski sent an email to Kilachand Hall residents earlier Wednesday, around 12:30 p.m.
"The ninth floor of Kilachand Hall is closed due to the investigation," the email stated. "The University will release a statement soon and more information will be shared with the community after Boston Police complete their initial investigation."
Dellheim and Zamojski also offered help to any Kilachand students affected by the incident.
"Crisis counselors are currently available in the Residence Life office at Kilachand Hall if you would like to speak with them," they wrote. "We understand that word may be spreading about this incident and ask you to call your parents to let them know you are safe and well."
In his email, Brown offered similar support to the wider BU community.
"As we do when our community experiences tragedy, we are making counseling resources available to any individuals who need assistance, and we strongly encourage people to turn to our experienced counseling and pastoral staff," he wrote.
Several students said they were stunned by the news. Anne Kim, a freshman in the Sargent College of Health and Rehabilitation Sciences, said she could see the body from her room on the third floor of Kilachand.
"I tried really hard not to look at the body," Kim said. "I have a lot of things going on, and what happened was very confusing. Some people just woke up and saw the body."
Brianna Shorte, a sophomore in the Questrom School of Business, commended the university for providing support services for those affected by the incident, though she said she wished to know more about the case.
"We can't determine how people are going to react to a situation … but, I mean, [the university] is doing what they can, so it's awesome," Shorte said.
Praveen Menon, a Kilachand resident and a freshman in the College of Arts and Sciences, attended the evening session at Kilachand. Following the session, he said counseling sessions provide a safe place for members of the community to heal.
"The university is doing things right by the family, which is very important," Menon said. "In the session, something I found very important is a sense of community and how everyone came together. Everyone grieves in their own way, and keeping more options cater more students' needs."
Alex Li contributed to the reporting of this article.