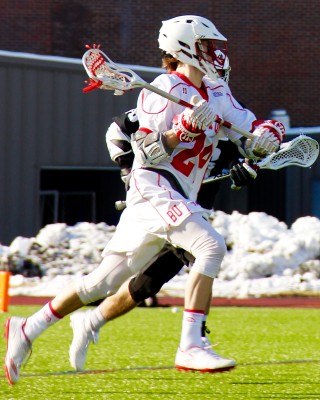 The No. 20 Boston University men's lacrosse team will aim to improve its Patriot League standing when it hosts Lehigh University Saturday afternoon.
For the Terriers (8-2, 3-1 Patriot League), this weekend's matchup will be yet another chance to assert themselves as one of the top collegiate teams in the country. BU head coach Ryan Polley watched his squad sneak back into the national rankings Monday with a 16-6 drubbing of Lafayette College. Eleven different Terriers scored in the game, led by freshman attack James Burr, who matched a career-high with four goals.
With four crucial conference games on the horizon, starting with the contest with the Mountain Hawks (5-4, 3-2 Patriot League), Polley expects his offense to continue to be well-rounded. The efforts of freshman midfielder Brendan Homire and junior midfielder Pat Myers, who have combined for 29 points on the year, should be indispensable.
"We're just getting contributions from a lot of guys, and it's allowing us to score at a pretty high rate," Polley said. "We hope to get balanced scoring. We're really tough to defend when we have a bunch of guys stepping up."
The Mountain Hawks may have lost three of their last four games, but they still pose a significant threat. Lehigh sits at second in the league in goals per game with 11.67 and scores on 32.9 percent of its shots — the top percentage in the conference.
Leading the way for the Mountain Hawks are attacks Reid Weber and Tristan Rai. The duo has scored 45 of Lehigh's 105 goals this season, and Weber and Rai respectively sit at fifth and sixth in the league in points per game.
BU's vaunted defense, which has forced 87 turnovers and allows only 8.6 goals per game, will have its hands full trying to contain not one, but two explosive scorers. Polley acknowledged the duo's capabilities and expects plenty of trouble from Weber, a senior who scored four goals against BU in a 10-9 Lehigh win in the 2015 season.
"Weber has been doing it for four years now," Polley said. "He's been one of Lehigh's best players. He's a dynamic scorer and scores in a lot of different ways. He can get to the outside, he's a dodger, he's very good off the ball. So we're going to game plan to try and limit his opportunities."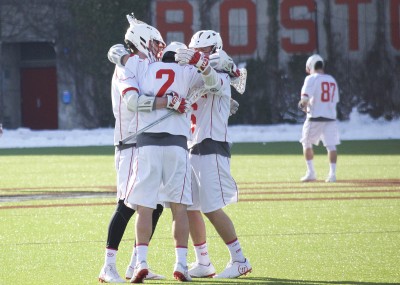 Polley had similar thoughts about Rai, who scored five goals in his first collegiate game against the New Jersey Institute of Technology.
"Rai kind of burst onto the scene as a freshman," Polley said. "He's got great hands, and he's a great finisher. We're certainly going to be concerned about knowing where he is at all times and making sure we have ball pressure on any other players so they can't get the ball in opportunistic positions."
Saturday's game will also be the first home game for the Terriers since an 11-6 victory over Colgate University on March 12. BU just wrapped up a three-game road stretch and will play its next two games at Nickerson Field. The importance of playing in a familiar environment was not lost on Polley.
"We're looking forward to it," Polley said. "We did a good job on our three-game road trip, we got two out of three against good opponents, so we're certainly pleased about that. It's always nice to play at home, always nice to not travel and wake up at a decent time and have a good team feel. It should be a great environment. We're looking forward to having a great day."