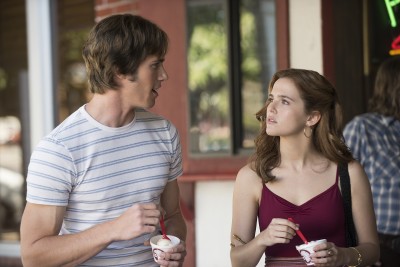 Director Richard Linklater's newest film "Everybody Wants Some!!" deserves its use of not one, but two exclamation points. As a spiritual sequel to Linklater's 1993 film "Dazed and Confused," the film brings viewers into the lives of a college baseball team at a stereotypical Southern state school in 1980.
Set during the first weekend of a semester, the whole film spans a few days, starting as freshman Jake (Blake Jenner) begins his college career. The film is a blur of moustaches and short shorts, with plenty of witty banter to match, reflecting the confidence and reckless immaturity of college boys as they make their way through parties and practice.
The result is a carefree and deeply amusing story, invoking the hazy, unwavering fun of the start of college.
From the opening credits, it feels like jumping seamlessly into a new group of friends as Jake takes his first steps into the off-campus baseball house. The humor is phenomenal with quick and witty banter that never slows down, incorporating inside jokes that have you laughing out loud with them.
There's a hierarchy in the house — the older boys versus the new ones — a balance of teasing and brotherhood, showing the building of bonds from their inception. The pack mentality is evident not only in the fictional group but in the actors themselves, each playing off of each other. Each character is unique with specific flaws and quirks, and while at first they seem like very surface-level athletes, there's a lot more to them than their first impressions.
The film shows actors in roles unlike their more innocent pasts. Tyler Hoechlin, known for his stoic role on MTV's "Teen Wolf," plays McReynolds, a competitive upperclassman with a love for putting down his younger teammates. Meanwhile, Jenner is known for his role on "Glee." They both branch out so far that it's refreshing.
While at first college seems like nothing but a nonstop party, the new freshmen soon realize that not everything is perfect all the time. The characters question their identities as they travel through different parts of the college social scene, questioning who they are and what's genuine, what the difference is between adapting and being fake.
Even within the first two days at school, Jake feels a little stuck in his baseball clique and questions what it means to break out. While most of the film's tone is lighthearted, it takes a flip here, becoming introspective and reaching into the fears most people have about who they are and what it means if they choose to do something that doesn't totally fit that mold.
At one point, the boys in a bar talk about going with the flow and not taking things too seriously, and one mentions that everyone should follow their own "inner strange," because that's when things finally get fun. It's solid advice to take, even if it's given in a country-themed bar while the characters pound beers.
While their conversations get satirically deep — in the weed-y, musical, screw corporate America kind of way — the dialogue also questions our role as individuals, leading the audience to question the complexity of the discussion.
It goes back to the genuine versus fake debacle. Are they philosophically really that deep, or are they just spitballing ideas? Mostly it seems like they don't really care how it comes off, making it feel authentic, like a conversation you could have had in any college dorm.
The tone of the film is all around lively. They dance at discos, go to house parties and drive in their car singing along to various popular early '80s jams. The soundtrack reinforces the time period in the best possible way, with songs like "My Sharona," "Heart of Glass" and a killer baseball montage set to "Whip It."
Since the film is set in Texas in the month of August, the characters dress and do summer activities. As an audience member, you'll feel genuinely warmed, making you crave summer and the independence and freedom it provides.
As the film wraps up, it touches on passion and how college is a gateway for people to find what they want to do and run with it. Sometimes, however, that passion can be limiting. Many of the characters mention that passion should entail doing what you want to do, and that meaningfulness is all based on what you choose to see as important.
Viewing this film as a college student, or anyone really, is very uplifting. It makes you feel like you're on the cusp of starting a new stage or chapter in your life. As Jake walks into his first-ever college history class, he sees written on the board, "Frontiers are where you find them."
"Everybody Wants Some!!" reminds us that this isn't high school anymore, but that doesn't mean it can't be fun.