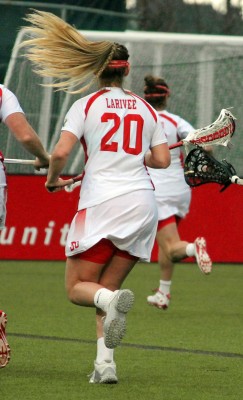 As time wound down, Lehigh University attack Allison LaBeau stalled in the Boston University women's lacrosse team's zone.
With five ticks remaining, she found teammate Lauren Beausoleil for a game-winning shot past junior goalkeeper Caroline Meegan that gave Lehigh (8-2, 3-1 Patriot League) an 8-7 win over BU (5-6, 3-2 Patriot League) Saturday afternoon at Nickerson field.
"Our coaches gave us confidence and said, 'If you have the ball, go to goal,'" the junior from Ridgewood, New Jersey said. "We knew Allie was being face guarded, so we all swarmed to the side to give her that lane. They were all looking toward Allie, so I snuck in the middle and got open."
Beausoleil and LaBeau were effective throughout, as they combined for five goals and an assist and guided Lehigh's dominant second half performance. The visitors also caused BU to lose 10 of the game's 17 draws, and Lehigh head coach Jill Redfern said this was indispensable in securing the victory.
"BU is a strong draw team," Redfern said. "You do not want to run up and down and get into a high-scoring game with them. I don't think we particularly slow down play as a huge strategy, but it does not bode well to go back to the draw against them. Overall, we won our draw stat with players off the draw, so for us to come up with that says a lot for our team."
Among seven of BU's draw control wins, senior midfielder Jill Horka broke Sarah Dalton's career record in draw control wins. A legend in the Boston University program who graduated in 2009, Dalton is now joined by another strong midfielder in Horka, who is the focal point of winning possession for the Terriers.
Still, Horka was not happy with how draws went despite earning a spot in the program's record books.
"Going forward, we need to put this game behind us and learn from our mistakes," Horka said. "Especially on the draw control, where it was not our day today."
Another flaw of the Terriers was their inability to sustain a 5-1 halftime lead and dispel a comeback from Lehigh. While BU had a comfortable lead, the Mountain Hawks came out strong during the first seven minutes and tightened the game up with three unanswered goals. From there, Lehigh rode its second-half momentum to close out the game, and BU head coach Liz Robertshaw gave credit to Lehigh's grit.
"In the second half, Lehigh just wanted it more," Robertshaw said. "I think our team became too casual and thought they won the game in 30 minutes."
Although the scoreboard says otherwise, Meegan had a solid day in net, saving nine shots with several coming from right in front of the crease. Her play kept BU afloat amid several defensive breakdowns, and Robertshaw took note.
"We held onto some good looks in defense, but when we got burnt, we got burnt badly," Robertshaw said. "[Meegan] had some point-blank shot opportunities against her, and I think that she did everything she could do."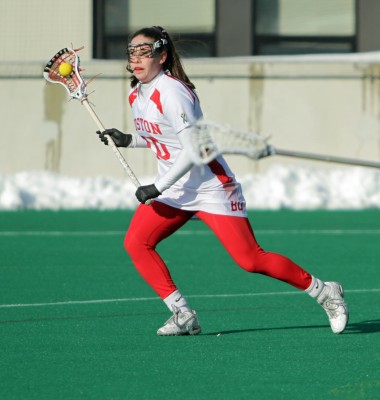 While BU didn't come out on top, it compiled a solid offensive effort against one of the Patriot League's top goalkeepers in Taylor Tvedt. Most of its goals, such as senior attack Mallory Collins' beautiful finish after faking out two defenders on a double spin move, showcased great skill. The Terriers also displayed a good sense of parity on offense, as six different Terriers found themselves with at least a point.
"I think we have a lot of goal scorers, which in some respects is great," Robertshaw said. "If someone shuts down … Mallory Collins or [sophomore attack] Mickenzie Larivee, we can have someone else step up."
Despite the diversity in attack, Robertshaw expressed disappointment her team's inability to halt Lehigh's second-half surge.
"The problem that we are seeing is that too many people look to other people to score," Robertshaw said. "I think if we get our players having that 'let me do it' mentality and getting two or three points a game, I think that it will be better in our favor."