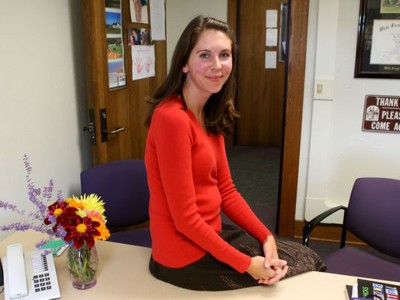 When Lisa Glebatis Perks was a graduate student at The University of Texas at Austin, she and her friends would spend a full day watching a marathon of "The Lord of the Rings" extended edition films after submitting their work for the semester. This is when Perks, now a professor of communication at Merrimack College, first became interested in the idea of what she calls "media marathoning."
Perks spoke at the Massachusetts Institute of Technology Thursday and discussed the phenomenon in a talk titled "Media Marathoning and Affective Involvement." Her research on the benefits of media marathoning is published in her book "Media Marathoning: Immersions in Morality."
Perks said her term helps avoid the negative connotation associated with the phrase "binge watching." Through her research, Perks found that common stereotypes surrounding binge watching do not align with media marathoning.
"A lot of the people I talk to who marathon said they were doing it purposely," Perks told The Daily Free Press. "It wasn't this mindless or accidental thing that they were … losing control and couldn't stop binging. It was that they were really more holistically engaged with the story."
While binge watching usually refers to watching television, Perks said the idea of following a story in a short timespan encompasses all different platforms, including books.
"I've seen through the research that a lot of similar motivations are there whether you're marathoning a film series or a book series," she said.
There is a broad range of reasons why people choose to media marathon, Perks said. A common reason she found was an upcoming installment in a series. However, she also said people media marathon to connect more with their peers.
"Some people were media marathoning to catch up with their friends or family members who had recommended a story," she said, "so they wanted to be able to talk about it together."
Perks' research found that fantasy stories — such as "Harry Potter," "The Hunger Games" and "The Lord of the Rings" — and many TV dramas were commonly watched in marathon form. People enjoyed TV comedies as well, such as "Glee" and "How I Met Your Mother."
Perks explained that the "different genres offer something different to the marathoner," creating a more "enjoyable form of holistic engagement."
While many critics have said that media marathoning can lead to a more sedentary or unfulfilling life, Perks said she hasn't encountered many cases of this.
"The majority of my participants had positive feelings when reflecting back on the stories and their experiences," she said.
These positive experiences include "a connectedness to fan communities or just other people who knew the story and liked the story." While binge watching is often thought of as an individual experience, Perks said media marathoning offers ways to connect with those around you.
In addition to connecting with each other, fans become involved with the internal conflicts and experiences of the characters in the "story world."
"There's a lot of discussions about morality that happen in these commonly marathoned stories," Perks said. "People were really interested in kind of exploring those different dimensions of morality."
Perks also explained that media marathoning can stimulate the brain and get people to "cognitively engage in the stories." She said it's more than a mindless activity.
"People were … learning through the experience of the marathon, whether it was keeping a big cast of characters in their head or learning … unique features of these fictive worlds," Perks said. "It was a way to kind of learn and think in a creative, fun way."
In the future, Perks said she hopes to explore the relationship between media marathoning and coping with poor health, as many of her subjects said they started a new series while recovering from an illness or a surgery. While media marathoning is commonly practiced throughout all age groups, Perks has found a good number of media marathoners in their 60s, recovering from knee surgeries, hip replacements and the like.
Perks added, "In moderation, media marathoning can be a really enjoyable way to connect with both real people, to connect with story worlds and to have a … pleasurable media experience."