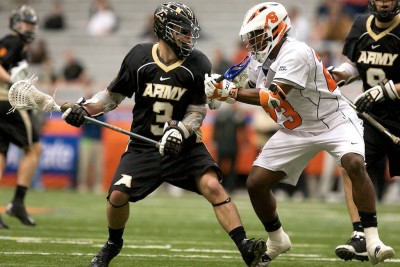 At one point this season, the Georgetown University men's lacrosse team was ranked. Fast forward to the beginning of April, and the Hoyas have a 1-9 record.
Those two sentences might sum up the 2016 men's collegiate lacrosse season more than anything else. The oddities of this year in the NCAA are nearly unmatched, and the parity has led to some unlikely storylines throughout the nation.
To begin at the top of the polls, No. 3 Yale University, an 8-0 team, was one of the frontrunners in what was expected to be a competitive Ivy League. Yale and No. 2 Brown University, which is also 8-0, were both expected to finish high, so their dominance is no surprise. Brown now sits behind top-ranked University of Notre Dame which has advanced to the last two Final Fours.
The Fighting Irish have suffered a single loss to No. 4 Denver University, the defending champions. At 8-1, the Pioneers have only lost to No. 14 Pennsylvania State University, a group that has bounced in and out of the national rankings all season long.
Now skipping to the bottom of the poll, Penn State has defeated the likes of Denver, previously-ranked Harvard University and Ohio State University, which has also floated in and out of the top 20.
The University of Massachusetts is yet another enigma, as it's a 4-5 team that finds itself just outside the top 20. This is the result of victories over Ohio State, Penn State and No. 11 University of North Carolina at Chapel Hill. The Minutemen recently fell to an unranked University of Delaware, though, so it's tough to judge if they're a contender or not.
While other storylines of note include Harvard's fall with four straight losses following a 4-0 start or Syracuse University losing every game in a stretch against No. 16 Johns Hopkins University, No. 13 Duke University and Notre Dame, the most bizarre of all, may revolve around No. 20 University of Virginia.
The 6-5 Cavaliers were projected to contend in the ACC, historically the most challenging conference in all of lacrosse. However, they began the year with a stunning 11-4 loss to No. 15 Loyola University Maryland, a Patriot League team expected to take a step back. Following a win over a Drexel University, Virginia dropped a midweek game to a so-so High Point University team.
Virginia has gotten back on track as of late, with three straight wins over Johns Hopkins, the Virginia Military Institute and the University of Richmond, but other losses to Syracuse, Notre Dame and Cornell University see it on the fringes of the ACC standings.
Several more webs of storylines can be found from Virginia. To start with Loyola, the Greyhounds got off to a confusing start of the year but find their destiny back in their hands. They're admittedly behind No. 10 United States Naval Academy in the playoffs, but at 7-3 are in excellent position to contend in postseason play.
Loyola started off 3-0, but is 4-3 since, with losses to Towson University and Navy. There's also its stunning 15-6 loss to Duke, which starts yet another web of confusion.
At times the Blue Devils, led by Tewaaraton Award candidate Myles Jones, have been dominant. Yet, they dropped a 12-10 decision to the University of Richmond, calling into question if they're as strong as projected.
Richmond has not been a bad team in its own right, as it slipped by Duke and got past High Point University, but one blemish stands out above the rest. It recently fell 9-0 to the very same Virginia team that has disappointed the Cavalier faithful and shocked the college lacrosse world.
The question emerges as to why this season, out of all of them, has been the most bizarre. The answer may lie in the growth of the game itself.
Several new programs have made splashes in recent seasons, and one that stands out the most is Boston University. BU itself is a young team that makes the mistakes that would be expected, but it has the talent to upset teams such as Harvard and Navy.
The University of Michigan, No. 17 Marquette University, Richmond and High Point are other young programs that have found success amid the surprising dips from powerhouses in Virginia, Syracuse, Duke, North Carolina and Johns Hopkins. And while some may view this season as an outlier, it's brought about a stretch of results that no one could have predicted.
The emergence of young, growing programs are challenging the old-school, typical lacrosse schools to get better, and this season of parity should lead to an overall more competitive Division I environment for years to come.