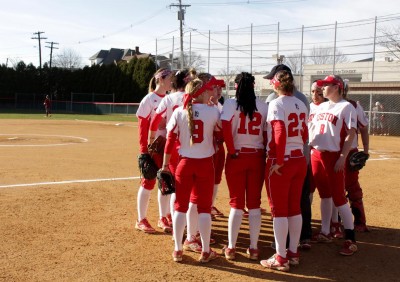 After having four home games in a row canceled or postponed due to inclement weather, the Boston University softball team will finally return to action Wednesday afternoon when it travels for a doubleheader at Marist College.
The Terriers (11-16, 0-3 Patriot League) were originally supposed to host the Red Foxes (21-7), but Monday's snowfall prompted the switch in venues.
BU head coach Ashley Waters said she wouldn't let her team's one-week layoff affect its mindset going into the game.
"We try not to focus so much on the negatives and the things we aren't able to do, and focus on what we are able to do," she said.
Waters praised Marist head coach Joe Ausanio for being able to prepare the Poughkeepsie, New York field on such short notice.
"The coach has actually been really great," Waters said. "I think they're in similar situations in terms of wanting to play more games. They went to great lengths today to get that field ready, and we're super appreciative … Getting us out of Boston to get two games in really isn't a big deal because of the downtime after. Just to play [is what] we're grateful for."
The Terriers will have their hands full, as Marist has won eight games in a row and currently sits atop the Metro Atlantic Athletic Conference standings.
In addition to being undefeated at home this season, the Red Foxes also boast a potent lineup. Seven players have batting averages over .300, led by hits leader Maureen Duddy, who is batting .390 with a .426 on-base percentage and 25 runs scored.
With a .303 team average, the Red Foxes are built around contact hitting. However, that doesn't mean they are lacking in the power department. Infielder Kyrsten Van Natta not only boasts a .321 batting average, but is also first in RBIs and doubles. Outfielder Gabrielle Kelliher is Marist's purest power hitter, as she has a team-best .585 slugging percentage and leads the team with five homers.
Containing a dangerous Marist lineup that averages just over five runs per game is a tall task, and Waters said it will take a team effort to overcome the rustiness from an extended layoff.
"We're going to have to execute and do a good job on the coaching end of it," Waters said. "Defensively, it's one of those things where the more live balls you see, the better you get. We're coming off of not really playing, we're going to have to come out and really be ready to go and have our focus there. From the pitching standpoint, it will be good for them to get some innings and get themselves in a better spot going into conference play."
Waters has been pleased with her pitching staff's performance thus far. Senior Lauren Hynes has been the staff workhorse, posting an 8-8 record with a 2.50 ERA and 82 strikeouts while appearing in 22 of the team's 27 games.
"Lauren's done a really great job," Waters said. "She's one of the few that can really give us a strong start. There's a level of consistency with her."
Freshman catcher Alex Heinen has paced the Terriers' offense. The rookie is fourth on the team with a .315 average, while leading BU in slugging percentage, RBIs and homers.
Heinen, who should contribute against the Foxes, will have tempered expectations, and Waters cautioned that Heinen's first-year status won't limit her potential.
"When you stop on the field, there's nothing on your back that says freshman, sophomore, junior," Waters said. "Alex has played a really long time at a high level, and she's found her comfort [zone]. She's really done a great job in the middle of the lineup and driving people in. I think for her, the best is yet to come. She's done a really good job, but there's so much more in her, so I'm excited for what the year holds for and what the future holds for her."
Nick Neville contributed to the reporting of this article.