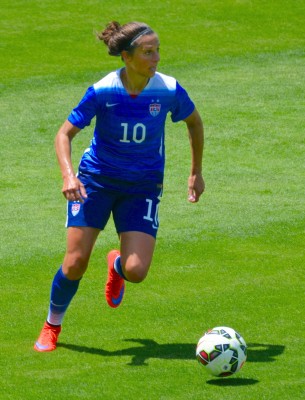 A handful of U.S. women's national soccer team members, including superstars Carli Lloyd and Alex Morgan, recently filed a wage discrimination complaint with the Equal Employment Opportunity Commission against the United States Soccer Federation, coining the slogan "Equal Play. Equal Pay."
According to the 2015 USSF financial report cited in the lawsuit, the women's national team amassed about $20 million more in revenue than its male counterparts. Despite the women's unparalleled success and the men's unbearable mediocrity, members of the women's team on average make a fraction of the men's salary.
Goalkeeper Hope Solo said the men's players "get paid more to just show up than we get paid to win major championships." Solo is not wrong — the U.S. women's team has won a record three Women's World Cups and four Olympic Gold medals. The men's team, on the other hand, finished in third place back in 1930 when the tournament wasn't as competitive and has since only advanced to the quarterfinal round.
The most common argument explaining why male athletes earn more than female athletes is that men's sports generate more money than women's sports. The big four leagues of the NFL, NBA, MLB and NHL have global markets and passionate fan bases. This fact is mostly true — but not in the case the USWNT has presented.
Consider the NBA and WNBA. The average salary for an NBA player is nearly $5 million a year. The average WNBA salary is estimated to be around $75,000. In fact, WNBA teams must comply with a maximum salary cap of just over $900,000 — about 20 percent of the average player salary in the NBA.
When comparing the revenues these two leagues generate, though, these disparate numbers make sense. The NBA made a record-breaking $5.18 billion last year, up from $4.79 billion in 2013-14. By estimating a league average ticket price of $15 and incorporating $12 million given to the league as part of its broadcasting contract, David Berri of Vice Sports widely underestimates the WNBA's revenue to be around $35 million.
According to Street and Smith's Sports Business Journal, average WNBA attendance is down to 7,318 spectators per game — the league's all-time low. Also, total viewership on ESPN and ESPN2 dropped by 14 percent. The sports network also only broadcasted 10 games on ESPN2 as compared to 19 in 2014.
For simplicity's sake, let's say the league made $50 million despite rock bottom attendance rates and declining viewership statistics. That would mean that the WNBA made less than 1 percent of the NBA's revenue, which is more than enough evidence to explain why the average NBA salary is more than 50 times higher than the average WNBA salary. 
Also, many try to justify male athletes making more than female athletes by saying that men's sports are "more exciting" or "dominant" in comparison. While it is true that a WNBA game features significantly less dunks than an NBA game, there is a prominent, growing market for women's sports. If this particular argument is not obsolete already (which many deem it to be), it will be soon. This statement is proven by viewership numbers from the World Cup.
The 2014 World Cup, which saw Germany defeat Argentina in an extra-time thriller, drew about 17.3 million viewers in English. The 2015 Women's World Cup, which featured a dominant performance from the Americans over the Japanese, drew 25.4 million viewers in English and had more viewers overall.
There are still a number of reasonable counterarguments that can be made defending the current salary configurations. The strongest argument might be the fact that men have more options to play elsewhere and can earn more money at those destinations. Along those same lines, men will likely require extra incentive to play for their national team, since they have so other options.
For example, iconic men's goalkeeper Tim Howard made $2.6 million in 2014 for Everton — much more than he'd ever make while playing for the United States. Unfortunately for the members of the women's team, there are far fewer professional women's leagues out there and certainly no $2 million contracts being shopped around.
But this simple fact remains: The women's national team generates more money than the men's team. If a woman working in the sales department of a retailer generated significantly more revenue than a man in that department and got paid significantly less money to do it, a lawsuit would land on that manager's desk.
In conclusion, male athletes typically receive higher pay than female athletes because the teams they play for and the leagues they play in generally earn a lot more money. Obviously enough, that same standard should apply when women's teams create more money than men's, as the USWNT has clearly done. The women filing the suit should win handily, for any other outcome would be outrageous.