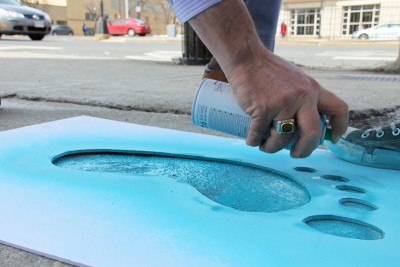 A collaboration between a Boston University student artist and the BU Sexual Assault Response and Prevention Center as part of the Sexual Assault Awareness Week took place along Commonwealth Avenue Wednesday afternoon.
A pathway of spray-painted footprints was installed as part of the "I Will Walk With You" project, for which students were invited to participate and spray-paint a bright blue footprint along the sidewalk. Students were also given out flyers from SARP that described the ways in which students can combat issues of sexual violence on campus.
The pathway started at the SARP Office at 930 Commonwealth Ave. and moved down Commonwealth Avenue toward BU Central. Members of the BU community who commit "to supporting survivors and learning about how we can each be a part of the solution to sexual violence [were] invited to participate," according to the Facebook event.
Keara Russell, a student artist and freshman in the College of Arts and Sciences, initiated the project. Russell said she came up with the initiative last semester after taking the College of Fine Arts Professor Hugh O'Donnell's "Art for the City" class. During that class, O'Donnell had assigned students to come up with public art projects that would engage the BU community, and Russell said she found out she could channel her passion for survivors of sexual violence through her art project.
"I essentially wanted to visually demonstrate how much support there is in the community," she said. "By having each supporter spray-paint one footprint in a pathway, we can kind of visually demonstrate, metaphorically, how we 'will all walk with you' in the journey to seeking better help."
Maureen Mahoney, the director of SARP, explained that Russell proposed her idea to SARP and that it seemed to fit right into SAAW because the event is designed to promote awareness.
"[The project] is something that is visible to people who may not want to come to events," Mahoney said. "It's something that happens in public, in the broad daylight, that is probably less triggering for people because someone would have to stop and ask what it's about to find out that it's about sexual assault awareness."
A series of events in this year's SAAW began Monday and will last until Friday. The week includes a T-shirt decorating activity, a number of talks and an open mic event, among others. Many university departments, student groups and faculty members collaborated to highlight the "prevalence, impact, and prevention of sexual violence" at BU, the event page stated.
Mahoney said the issue of sexual assault is a universal issue on college campuses across the country.
"I don't think that BU is different from any other college or university in this country," Mahoney said. "There's a huge amount of research and data that shows that sexual assault is a problem everywhere and that preventing sexual assault is necessary."
Sarah Voorhees, a health and prevention educator in SARP who was present during the visual demonstration, explained that SARP works with students on a variety of issues, including sexual violence, interpersonal violence and survivors within the community.
"Students have the opportunity to be involved in so many ways," she said. "One of the ways we like to talk about prevention is through bystander intervention … the idea of noticing different situations and intervening to affect outcomes in really positive ways."
Many students walked past the project and saw the footprints but didn't stop to paint their own. Maggi Mazri, a freshman in the Sargent College of Health and Rehabilitation Sciences, was one of the passersby. Mazri said she questioned why the footprints were on Commonwealth Avenue, but that she didn't ask why.
"Events like that make people more aware [of the sexual violence issue]," she said. "Here at BU, we really only talked about it at orientation and then it just got dropped off, so maybe more meetings … would help solve the problem and make students more aware."
Those who participated and spray-painted their footprints said the project was a creative way to increase awareness of on-campus sexual assault.
Izzie Donohoe, a freshman in the College of General Studies, said she participated in the program to raise awareness.
"I've heard a lot of people come up and say, 'Oh, we saw you on social media,' which is good," she said. "Just talking about [sexual assault] and spreading the word will help spark interest and lead to change."
Kathleen McLaughlin, a freshman in the College of Arts and Sciences, said that as Russell's roommate, she came out to support her friend.
"Before I came to BU, I didn't know much about sexual assault awareness prevention or anything, so once Keara got involved with this project through her art class, I thought it was really cool," she said. "I think it's not a fun conversation to have and it's not an easy one, but when you have a visual interpretation like this … it'll bring [issues of sexual violence] up in your mind."