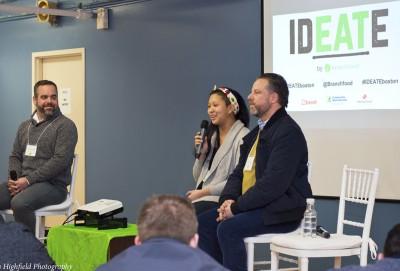 A snowstorm was brewing Monday, but the cold didn't stop a multitude of Boston restaurant industry insiders from gathering for Branchfood's innovation event, IDEATE.
Partnering with Community Work Services, Branchfood brought together entrepreneurs, chefs and investors to discuss the current state of the industry and its biggest obstacles.
Sam Hiersteiner, a writer for Complex's food blog, First We Feast, moderated the first discussion, which focused on the current state of the industry in Boston. Writing since 2010, Hiersteiner has recently delved into the distinct factors associated with the gradual growth of the city's restaurant scene.
"The sheer brain power in this city when it comes to integrating technology and food means that Boston is going to have a huge impact on which direction the world takes on these upcoming trends," Hiersteiner told The Daily Free Press. "We're at the beginning of something really great if we can figure out what kind of scene we want to become."
According to the National Restaurant Association, there were 15,251 food and drink establishments in Massachusetts in 2014, and sales are projected to reach $16.5 billion in 2016.
So what kind of restaurant scene does Boston want to become, and how can it go about doing so?
The question weaved its way into every discussion and was a reminder of the gradual shift from traditional models to the unconventionality that the industry has slowly embraced.
Irene Li, co-owner of Mei Mei, has exemplified this shift throughout her own business. Along with her two older siblings, she started the Mei Mei brand with a food truck in 2012 and then opened the restaurant about a year and a half later. As a speaker, Li said she wanted to "provide Mei Mei as an example that all restaurants are different" and tell her story to "show the diversity of people [who] are in the industry now."
And for many, diversity proves to be a key ingredient in expanding Boston's restaurant scene. Joshua Hubbard, executive director and co-founder of The Restaurant Entrepreneurship Institute, has been working on developing his own ideas to further the business. With the help of the Boston University School of Hospitality Administration's Professor Christopher Muller, Hubbard is currently looking to create an incubator model to house 10 to 15 restaurants under one roof for two-year rotation cycles.
"In the traditional sense, people think of restaurants as the hardware of bricks and mortar, tables and chairs and silverware," Hubbard said. "But it's really about the software which includes creativity, the execution, the training, the day-to-day consistency. Those are the parts that make a restaurant succeed. Our goal is to create a setting that has the hardware so that we can take young, budding entrepreneurs and allow them to run with their software."
Dan Dain, a member of the Restaurant Investment Group, broke down the traditional investment model as an ad hoc operation.
"It means that these chefs with great ideas have to go out to the market and meet as many people as they can and say, 'Hey, will you write me a check for $100,000?'" Dain said. "We at RIG believe that there was a different way of raising and investing money, where there's more oversight and more help with the business plans."
Hiersteiner said he believes it's time to embrace a changing industry that allows more inclusiveness, more accessibility and less inequality in all of its aspects, from staffing to sustainable sourcing.
If there's anything IDEATE highlights, it's the number of tools and sources that can be available to budding chefs and entrepreneurs in the Boston area.
Evanna Lyons moved from Cork, Ireland less than a week ago and just finished studying at Ballymaloe Cookery School. She attended IDEATE to learn about current trends in Boston's restaurant scene and the business aspect of the industry, with hopes of one day owning a food business.
"It's interesting to see that people put such an emphasis on community here as well, because community is such a big thing back in Ireland," Lyons said. "In a city like Boston, hearing that getting involved in the local community is important was refreshing. And maybe one day I can contribute too."