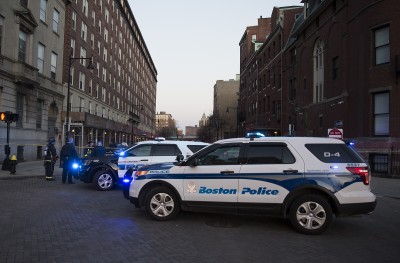 In recognition of Sexual Assault Awareness Month, Massachusetts Lt. Gov. Karyn Polito announced new policies Tuesday to reduce human trafficking in the commonwealth, according to a Tuesday press release.
"Our administration is pleased to announce these critical reforms during Sexual Assault Awareness Month and Child Sexual Abuse Prevention Month to target the drivers of trafficking and do more to keep our children and communities safe," Polito said in the press release.
Polito, backed by Massachusetts Gov. Charlie Baker and his administration, introduced the formation of a Human Trafficking Unit within the Massachusetts State Police, which will work with the Department of Children and Families to assist law enforcement officials with human trafficking investigations, according to the release.
DCF Commissioner Linda Spears said in the release that the partnership is an essential tool in fighting human trafficking in Massachusetts.
"I am proud of DCF staff leadership on a federal grant that engages law enforcement and providers in proactively identifying and supporting children who have been trafficked," Spears said in the release. "A collaborative approach is crucial to protecting children from these predators and meeting the unique needs of youth who have been victimized."
As part of the changes to the DCF, sexual exploitation will now be considered a reportable condition, even if the perpetrator is not a caregiver to the victim, according to the release.
Polito's reforms will also affect the Children's Advocacy Center of Suffolk County, an organization that provides help to abused children and their families. The CAC works alongside police officers and DCF staff to respond to reports of commercial sexual exploitation, according to CAC Executive Director Susan Goldfarb.
"The Children's Advocacy Center works very closely with the Department of Children and Families, very often from the point when the report is first made," Goldfarb said. "The reports of commercial sexual exploitation will be referred to us, and we will very likely be responding to them together with the police, the District Attorney's Office and the DCF."
With these new tools, Goldfarb added that the CAC aims to provide services for children who might not have had access to help in the past.
"We've certainly been hoping for changes like this to be made," Goldfarb said. "It will hopefully provide more access to services for kids who previously may not have been able to get them."
While the CAC looks forward to improving services as a result of the reforms, Goldfarb said there is still work to be done.
"There's always a need for training so that professionals are able to recognize when a child that they're working with might be a victim of commercial sexual exploitation," Goldfarb said. "Also, more funding for resources and support would be useful because this is still a relatively new area and throughout the state, there's been a need for more services."
Several Boston residents had varying degrees of knowledge about human trafficking cases in the Boston area but said they support policies designed to eradicate those practices.
Evan Fishman, 26, of Brighton, said he thinks reforms could be beneficial.
"I definitely think if that stuff is going on, the government should work to stop it," he said. "It's just a question of whether or not it's a priority."
Laura Medina, 46, of Dorchester, said it would be beneficial to make additional reforms surrounding drug use.
"I think a lot of the time, human trafficking is associated with drug use, so if we could crack down on both of those things at the same time, that might work well," she said.
Jessica Schiowitz, 28, of Allston, said she also generally feels safe living in Boston but is still weary of commercial sexual exploitation in the area.
"I know that kind of stuff goes on around here," she said. "Reforms targeting human trafficking are really important here because a lot of people in Boston are moving here from home or from the suburbs, and they need that safety net to keep them protected."