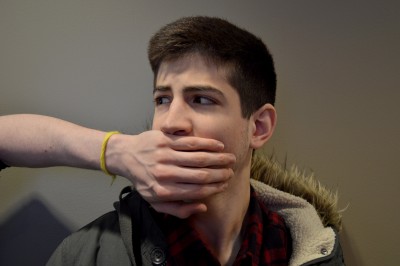 A majority of students in the United States believe their First Amendment right is and should be secured, yet about half of those students said colleges should have policies that restrict biased or offensive speech, according to a Gallup survey released Monday.
The study, conducted in March, surveyed 3,072 college students and 2,031 adults in the United States to understand how college students interpret their First Amendment rights.
Sponsored by the John S. and James L. Knight Foundation and the Newseum Institute, the study found that 81 percent, 76 percent and 73 percent of college students believe that freedom of the press, freedom to petition the government and freedom of speech are secured, respectively. However, only 68 and 66 percent of those students think freedom of religion and to assemble peacefully are protected, respectively.
Ken Paulson, president of the Newseum Institute's First Amendment Center, said the survey results are illogical, and he is concerned that students might not be paying attention to the First Amendment.
"It's interesting to see U.S. college students overwhelmingly believe these rights are secure," said Paulson, also the former editor-in-chief of USA TODAY. "That's the kind of reaction you get when people might be taking their rights for granted."
Paulson said he is most concerned about students' distrust in the press and reporters, especially considering the survey stated that 58 percent of college students have doubts in the press' fairness and accurate reporting.
"The role of a free press is to report on what's going on in the community, then be able to publish it freely," Paulson said. "It's manifestly unfair to conclude that coverage would be biased before the coverage actually happens."
Paulson said that it is "just silly" that so many students said they do not trust the media.
"Some news organizations are extremely trustworthy, and others are not," Paulson said. "It's our job as citizens to seek out those who publish professionally and fairly, and support them by reading and purchasing their content."
Paulson said that the racial disparities among the survey results make sense because many of the recent protests on campus have to do with racial concerns. The report showed that 70 percent of white students agree that their right to peaceably assemble is secure, whereas 39 percent black students gave the same answer.
"If you've actually been out there, protesting and making a case for yourself, you do run into obstacles and have a better sense that there are limits on what you're trying to do," Paulson said.
Boston University Dean of Students Kenneth Elmore said if the university hears of speech that threatens other students or disrupts classes, there will be some restrictions to student speech on campus.
"The university is in a tricky position," Elmore said. "What we don't want to do is to restrict speech. What we do want to do is make sure that people have open ways where they can do things like express themselves. We want good, active, honest debate here at the university."
Elmore said there are many ways in which BU students express their First Amendment rights on campus, including using media, forums and gatherings at Marsh Plaza.
"These are ways where people are expressing themselves and where the conversations are not shut off," Elmore said. "Students do it all the time."
Several students said they feel strongly about their rights of free speech and free expression within or outside of the university, but they also understand the university's difficult position.
Divya Sethi, a senior in Questrom School of Business, said she is confused by the survey results but thinks students should have rights to free expression on campus.
"Everyone is a different person, and they should have the rights to express their feelings," Sethi said. "I understand why BU or any organization would want to restrict [free speech], because they don't want what students to say to go against [the organizations'] beliefs."
Davis Barek, a junior in the College of Arts and Sciences, said that he supports the First Amendment because everyone deserves the right to make their voices heard, but he is concerned the university may not tolerate opposing views.
"I do believe BU is a place where students may assemble and protest [without worrying] about violent opposition," Barek said. "But the university is not always tolerant of other points of view."
Rebekah Paxton, a sophomore in CAS, said it is important to protect free speech because it protects the right to express unpopular opinions.
"College campuses are interesting because [universities] generally favor one type of thinking and expression," Paxton said, "Colleges were created to be places of discussion and trial and error, but I know it's hard because [administrations] are also supposed to be safe spaces for everyone."