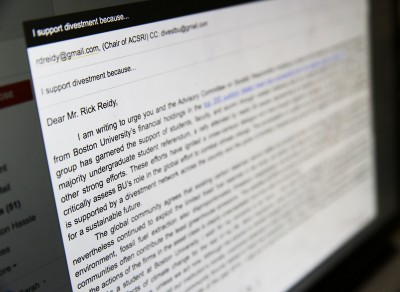 Divest BU, a Boston University organization comprised of students and faculty members advocating for fossil fuel divestment, invited students to speak up for divestment by sending a uniformed email statement to Richard Reidy, chair of the Advisory Committee on Socially Responsible Investing.
Students were scheduled to "flood [Reidy's email] inbox" Tuesday through Friday. Using a designated template, students can personalize the subject line of the email and "hit send." According to the initiative's Facebook page, the "ACSRI Email Blast!" allows the committee to be aware of "where [students] stand on divestment" before the committee proposes a decision to the Board of Trustees on whether or not the university should divest from fossil fuel.
"[Divest BU is] presenting you with the opportunity to have your voice heard, protect our endowment, the environment, and fight for social and environmental justice and you don't even need to put on pants to do it," the Facebook page stated.
Rachel Eckles, a student organizer with Divest BU, said individual action alone is ineffective in confronting the issue of climate change.
"We feel that what is happening right now is putting too much focus on what individuals can do," said Eckles, a junior in the College of Arts and Sciences. "It's very disempowering for the typical consumer to think everything is in their hands."
Though individual action is important in confronting climate change, putting pressure on institutions for positive action is critical to seeing progress, Eckles added.
"There's a much larger institutional system that's influencing things," Eckles said. "The only way to really challenge those accepted norms in our society that companies can decide things for us and that they can put all their money in political campaigns … is to use our communities and our larger institutions to push for influence."
The opening of the email template to Reidy reads, "I am writing to urge you and the [ACSRI] to stand with students by supporting full divestment from [BU's] financial holdings in the top 200 publicly traded fossil fuel companies with the largest carbon reserves."
The template further outlined some of the efforts Divest BU has done, such as a faculty petition supported with 270 signatures, a student referendum supported by 75 percent of undergraduate students and a rally attended by approximately 50 members of the community.
To conclude the email, the template reads that the sender urges Reidy to recommend to the Board of Trustees that BU divest from fossil fuel companies on Wednesday, April 13.
"As a student at Boston University, I wish for my concerns to be heard," the email template concludes. "Although the solution to climate change is by no means simple, I firmly believe divestment represents one action we must take to uphold our institution's morals."
Recent superficial commitment to sustainability and combatting climate change is not enough, Eckles said.
"It's so strange to hear that our school has a sustainability department … yet we still profit from the very problem at hand," Eckles said. "Why have we gotten to the point where this is happening and realizing our school doesn't even want to divest?"
The ACSRI provides a forum for relevant issues to be reviewed and discussed by members of the BU community, according to the committee's website. The ACSRI will then examine holistic views and opinions on the issue and develop a policy recommendation to be forwarded to Board of Trustees for consideration.
Investment in fossil fuels is the second issue under review by the ACSRI, following concerns of BU's investment in companies that manufacture firearms for the civilian market.
Several students who participated in the email blast said collective action is necessary to push BU to be a leader in divesting to combat climate change.
Vivien Chen, a freshman in the College of Arts and Sciences, said she has been working with her fellow Divest BU members to prevent disastrous environmental conditions.
"With CO2 emissions ever rising and the 2 degrees Celsius mark … creeping closer and closer, the pressure to take actions, especially on a large scale, is gaining momentum," she said.
Jessica Carlson, a senior in the Questrom School of Business, said BU should take action and confront companies that are contributing to climate change.
"We can no longer stand by idly as climate change becomes a greater and greater threat," she said. "By divesting, we are telling those companies that we cannot condone their actions. We are saying that as a university, community, nation and global player, we are prepared to take the necessary step to creating a sustainable future.
Sarah Bradley, a junior in CAS, said students are key in pushing BU to set an example and commit to the environment.
"It's absurd that a university with as many green initiatives as BU has is still profiting off of fossil fuels," she said. "This university is run like a corporation, with short-term profits driving all decisions. The administration and Board of Trustees don't see us as having any real power until we stand together and push for an issue that we care about."
David Franco contributed to the reporting to this article.