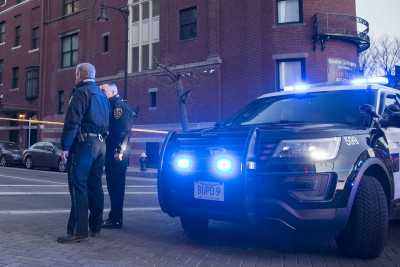 In an effort to curb gun violence and the flow of illegal firearms into New England, Boston Mayor Martin Walsh and Boston Police Commissioner William Evans announced a partnership with Arms With Ethics Wednesday at the New England Regional Gun Violence Summit, according to a Wednesday press release.
The press release stated that the program, made possible by a $25,000 grant from The Boston Foundation, will allow Arms with Ethics to work closely with mayors and police departments in New England cities to develop customized, law enforcement-led projects to combat the use and trafficking of illegal guns.
"This is about common sense solutions," Evans said in the release. "As law enforcement leaders in the region we have mutual interests and ways we can help each other, and that's what this [is] about. This is not about solving gun violence in just one city, it's about coming together at this regionally and finding strategies that work across city and state lines."
Keith Mahoney, spokesperson for The Boston Foundation, said AWE has had success implementing regional programs in the past.
"Arms With Ethics has an admirable track record in Florida and Georgia," Mahoney said. "The fact that they were able to collaborate with a number of different agencies in Florida and … that they've been able to work not just in receptive communities, but in more traditionally pro-gun rights states, such as Texas and Iowa, makes you consider them a resultant and pragmatic approach, rather than a partisan or ideologically based approach."
Nancy Robinson, executive director of the Ladies Involved in Putting a Stop to Inner-City Killings campaign, discussed how new programs need to address the role of women in holding and purchasing illegal guns.
Robinson said roughly 90 percent of murders and violent crimes are committed with illegal guns, and women often hide, hold and purchase those weapons for criminals.
"Our understanding is that the vast majority — 90 to 100 percent — of guns used in shootings on the street comes from illegal markets," Robinson said. "Any and all efforts to disrupt that illegal gun trade will save lives, and that's why LIPSTICK is focused on disrupting the way the guns are flowing into communities like Boston."
Robinson said the partnership will bring the necessary attention to gun trafficking in Boston.
"This partnership will strengthen the Boston Police Department's approach to stopping the flow of illegal guns because it will draw more attention to it," Robinson said. "LIPSTICK is one tool, a very effective tool, but we need every tool at our disposal to try to stop the flow of these guns."
Some Boston residents said they approved of the new partnership between the BPD and AWE, but others said there were larger issues at hand.
Francisca Marte, 43, of Fenway, said the program will likely be beneficial to the Boston community.
"It's a sad thing that we hear about shootings on the news so often," she said. "I think we've needed more effective programs for a while, and I could only see good things come from the partnership."
Aaron Reed, 67, of the South End, said the partnership will help decrease the number of gun crimes in Boston.
"It's great the city has this new partnership," he said. "Over the years, we've seen crime go down a good amount in Boston, but this seems like it will really polish the job off."
Rosa Diaz, 50, of the South End, said while she doesn't believe illegal gun trafficking is an important priority, she approves of the initiative.
"It sounds like a good idea," she said. "I mean, I think we have bigger issues to solve in the city. You hear about opium a lot. But if it stops murders and stuff like that, it can't be bad."