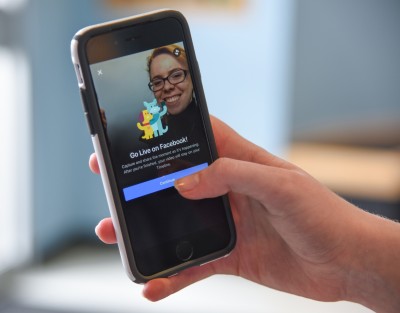 Twenty years ago, "live communication" meant talking to a person face to face. Today, live communication could mean talking in person, but it can also mean video chatting or live streaming to the Web. Facebook incorporates aspects of live streaming and interactive video chatting in its new feature, Facebook Live.
Mark Zuckerberg, the founder and CEO of Facebook, answered questions about the new feature in a video that was broadcast in real time Wednesday to the Facebook community from his Facebook page.
"Now, you don't have to take a bunch of videos or photos and curate them and find exactly the most perfect one," Zuckerberg said in the video. "You can just go live and feel like you're really there with your friends or people all over the world, and just interact with people there."
Patrice Oppliger, a professor at Boston University's College of Communication, said Facebook Live is an "interesting concept" from a marketing standpoint, and she looks forward to seeing how people use this medium that does not allow editing.
Oppliger cited a phenomenon called leakage, which is when people try to put their best face forward. But facial expressions often "leak" out and reveal the truth.
"Everyone's doing a promotion," she said. "I think people think that we're going to continue in this fantasy world where we can control our own image."
Zuckerberg sees large organizations and celebrities, as well as average Facebook users, using Facebook Live to connect with their customers, fans and friends. John Carroll, a professor in COM, said that while the new feature may have the potential to pull consumers away from other platforms such as Snapchat and Periscope, the latter still has a sense of immediacy that Facebook lacks.
"The drawback is that it's just one more platform amid a whole bunch of platforms that are already established to some degree," Carroll said. "I think they're in the middle of a crowd."
One of the benefits of Facebook Live, Carroll said, is that once a live video is over, it is stored on the user's Facebook page and can be viewed anytime after the video airs. On Snapchat and Periscope, the videos go away as soon as they are viewed.
"That gives [Facebook] an additional dimension to offer," Carroll said.
In his video, Zuckerberg emphasized the interactive aspect of Facebook Live. Viewers can comment on the video, and new comments appear on the screen immediately so the people making the video can respond in real time.
Throughout the launch video, Zuckerberg answered viewers' questions such as how he thinks live communication is going to transform media.
"They're going to be new kinds of interactive and social experiences, and I think that's what we're starting to see with live, is the ability to broadcast, hang out with your friends, be there," Zuckerberg said.
Facebook Live also has the potential to change the way people get news, Zuckerberg said. It could allow people to become citizen journalists, sharing "things that they're seeing that maybe traditional media outlets would have missed or not reported on," in addition to getting news out quickly.
He also talked about how professional reporters could use Live to "reach new audiences." Carroll agreed that news outlets will probably take advantage of the new medium.
"They're going to try to exploit as many platforms as they can," he said. "Their whole objective now is to reach people and distribute their content wherever they can, so it's no cost to them to put their video on Facebook Live."
Zuckerberg said he predicts that Facebook Live will help all sorts of people connect with their friends and followers in a newer, more natural way.
"It's much more engaging and interactive than taking a video on your phone and posting a pre-recorded video," he said. "It's a much more fun and social experience."