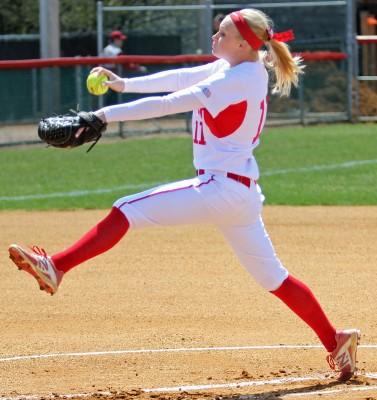 The Boston University softball team will travel to Rhode Island Wednesday afternoon to take on Brown University, and it will then return home Thursday to square off against crosstown rival Boston College.
Over the past week and a half, the Terriers (11-18, 0-3 Patriot League) postponed their three-game series against Lehigh University, and games against Harvard University and the University of Massachusetts Amherst were cancelled, all due to inclement weather. BU head coach Ashley Waters was left itching to take to the diamond once more.
"We are at this point right now where we just need to play," the first-year head coach said.
Despite being hard-pressed for games, Waters said, her team is ready to take on the Bears (16-11). Brown boasts a seasoned staff that has a 2.77 ERA, strikes out 4.42 batters a game and has only allowed eight homers.
"[Brown] has done a good job over the past couple of years in developing," Waters said. "They've played some really great teams in the Ivy League and in some of their preseason games."
While Brown is next on the docket, BC (20-15) will pose just as much of a threat. The Eagles got the best of Waters' side back on March 30, recently knocked off the University of North Carolina at Chapel Hill and will be itching to stay hot in Atlantic Coast Conference play.
BC will also likely give sophomore pitcher Allyson Frei the nod, as she struck out nine batters when she last faced the Terriers. She boasts the sixth-best opposing batting average (.226) in the ACC and has retired the fifth-most batters (117) in her conference.
Despite those challenges, Waters said the message is one of patience when her team tries to get the best of Frei.
"You have to get to the back of the box and allow her pitches to come in," Waters said. "We can't have big swings against her, we can't try to do too much. We just have to be short and sweet."
A key factor in facing Frei, as well as Brown's pitching staff, could be freshman infielder Alexa Ponce, who went 3-of-7 with three RBIs in a doubleheader against Marist College last week. She filled in for Emily Morrow, who sat out with a foot contusion and is gearing to get back in the lineup. Despite this, Waters said Ponce's presence at the plate could be vital as she vies for more playing time down the road.
"I think it is one of those pieces with her where she's trying to work into second base," Waters said. "The big thing with our sport is consistency, so being able to contribute offensively and contribute defensively made [this past weekend] great for her."
The probable starting pitcher against Brown is senior Melanie Russell, while classmate Lauren Hynes should take to the mound against Boston College about two weeks after coming in for a relief outing against the Eagles. Hynes has the best ERA out of all of BU's pitchers with 2.80, and she has struck out 83 batters.
While Waters joked that the pitching lineup "could all change tomorrow morning," what will stay constant is the mentality that no matter the opponent, it's all about getting ready to take the Patriot League by storm.
"When your games are getting canceled, it's not helping anybody," Waters said. "For us, it's a point of us getting out there competing no matter what field we are on or what opponent we are facing. As long as we are playing the game, we are improving. We are getting better, and it is helping towards our conference play."