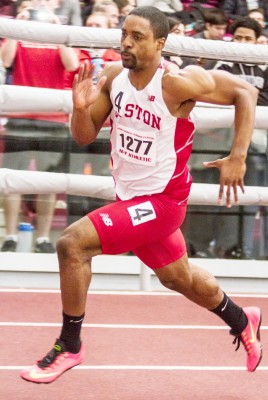 It's April 6 and Cameron Williams strolls up to the bleachers of the Boston University Track and Tennis Center. Adorned in all-black sweats with headphones draped around his neck and a contagious smile in hand, the 20-year-old bears an unassuming stature as he overlooks the straightaways and curves where he feels most at home.
From afar, the junior sprinter on BU's track and field team seems like any other student who calls Commonwealth Avenue home. He has two siblings, is from San Antonio and grew up playing football and basketball. What one doesn't see, however, is the elite athlete Williams has blossomed into as a Terrier.
Specializing in the 200-meter dash, he was honored as a Second-Team All-American, named the Patriot League Male Track Athlete of the Year and ran the fifth-fastest time in the country in the 200-meter dash. As BU track and field director Robyne Johnson put it, Williams is fitting the mold of Terrier greats such as Rich Peters and Tahari James. But Johnson doesn't buy the hype.
"I guess I just got lucky that I did well enough to participate at this level," Williams said. "I don't know, maybe I'm doing pretty well, but there's so much more that anyone who tries hard enough can get to. I don't really need to go gloating about it and speaking of my successes everywhere, because I'm not successful yet."
That last part in many ways speaks volumes to Williams' personality. Johnson noted that Williams has always wanted to put his name in the record books through hard work, even if he flies under the radar nationally and on campus. Meanwhile, assistant coach Greg Lambert, who works with the runner closely, said Williams doesn't recognize how good he is.
Both said they could rave about the junior's natural talents, but it's his personality that sticks out the most. He's bashful, intellectual, pauses before answering each question and, as Lambert said, takes every critique to heart.
"He's a little bit more open with us because we've known him for three years, well four if you include recruitment year, but he is a quiet guy," Johnson said. "He's very introspective and he takes what he does seriously, and works really hard."
That measured approach has translated to success in outdoor meets, too. At the start of April, he placed third in the Texas Relays with a time of 21.39 seconds, and recently placed third at Auburn University's Tiger Track Classic in 21.08 seconds. So, what keeps someone who's already achieved so much motivated to keep improving?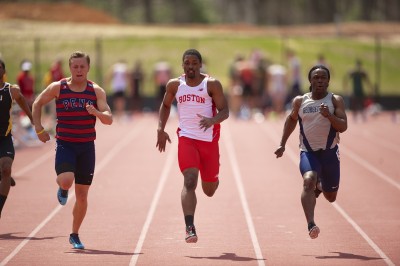 According to Lambert, it's rare moments of disappointment, one of which came at February's David Hemery Valentine Invitational. Williams lost by nearly half a second on his own track to Brendon Rodney of LIU Brooklyn. To put it lightly, that result didn't sit well.
"Cam came back as a man on a mission and him losing to Brendon Rodney was probably the best thing that ever happened to him," Lambert said. "You kind of wish that happens right before nationals again so he can get that fire lit up." 
Looking down the road, Williams has distinguished himself with aplomb, with one more season of his collegiate career remaining. He wants to keep improving, and hopes to one day experience high-profile meets such as the Olympics and IAAF World Championships.
Lambert said Williams still needs to clean up his technique, but once that's done, he can be among the world's best sprinters. Johnson was a little less lofty in her projections, but noted Williams has plenty in store down the road.
"His potential is unlimited," Johnson said. "He has the talent, you've got to keep putting in the work and we don't really talk about what might be … He's just got to put his head down and keep grinding."
Williams plans on doing exactly that, but emphasized that he hasn't achieved his most ambitious goals yet. In the meantime, he's enjoying every step of the journey, and rests easy that everything else will take care of itself.
"I came into this not really expecting much," Williams said. "I just was lucky enough that the stars happened to align one day and I was able to go to nationals and compete and represent my school. It was fun. Track and field for me is just a fun experience all the way around."