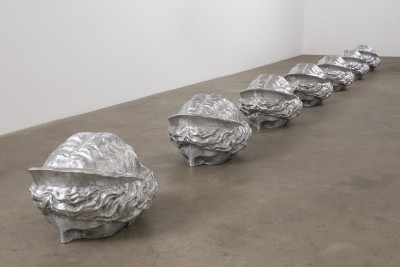 The Museum of Fine Arts will open a new exhibit featuring Los Angeles-based artist Sean Townley Saturday, set to run through July 31. Called "7 Diadems/Red Ankhhafs," the exhibition was inspired by molds that were used to conserve two ancient sculptures in the museum's collection.
Townley was one of 10 artists accepted to the School of the Museum of Fine Arts' annual Traveling Fellows program in 2014. The program provides funding for individual, graduate-level projects. Of the fellows, Townley alone was chosen to have a solo exhibition at the MFA. This will be the first time Townley's work will have its own exhibit in a museum.
"We've never invited a traveling scholar to the solo museum to engage with the historic areas of the museum's collection," said Liz Munsell, the assistant curator of contemporary art and special initiatives, who organized Townley's exhibit.
Munsell has curated exhibitions across media, including sculpture, often focuses on performance based practices.
She said it seemed fitting to have Townley engage with the museum's historical collections because he is "really interested in the technologies and the languages that are specific to sculpture."
"[This is] relevant to the museum context because sometimes, for conservation purposes, we make molds or casts of sculptures in our collection," she said.
Townley consistently uses many different types of technology in his work, like 3D scanning. However, for this exhibit, Townley used the more traditional technique of making casts from molds of the two ancient sculptures, Munsell said.
This kind of technology is similar to the process of using a photographic negative to create a positive image, Munsell said.
"You create a structure directly around [what] you're trying to cast and then you … split that structure in half," Munsell said. "Then you can pour in whatever material you're working with."
Townley used aluminum to recreate the two sculptures. His "7 Diadems" are recreations of the Roman goddess Juno's head seven times, and his "Red Ankhhafs" are reproductions of the bust of Egyptian Prince Ankhhaf three times.
The bust of Prince Ankhhaf is a particularly important sculpture because it is "one of the most valuable objects [and] most prized objects in the MFA's collection because it's a … very old sculptural portrait," Munsell said.
Munsell said that Townley chose those two pieces after talking with the museum's ancient Egyptian art curator and learning about backstories of the works.
"The mold of Prince Ankhhaf was made after 1939 because there was a point in World War II in which there was a threat of German invasion of Boston," Munsell said. "The museum decided to create … fakes of Prince Ankhhaf because it was one of the most valuable objects in the collection. It placed one of those copies on view as a decoy."
Townley started the recreation process in December. He worked in the museum's conservation lab, which Munsell called "his studio … where these sculptures began to take shape."
This type of exhibit is unique to the MFA because it combines two different departments — contemporary art and ancient art — into one exhibit.
"This exhibition is a really exciting opportunity to engage a contemporary artist with the museum's ancient art collection," Munsell said. "The MFA is a really special place in which artists can engage directly with art history, and we really want to be a resource for artists' research processes and for their contemporary works that they're making."
Munsell said the museum wants to break down any preexisting notions that ancient art is no longer relevant to the public.
"We're excited to show how work from across time is really very relevant to contemporary art practices and contemporary issues in general," she said.
Munsell said she is "excited for the public to have a window into the museum's process through this exhibition."
"There is maybe a kind of generalized perception that the objects that we have on view are these … pristine, perfect objects that arrived to us through this portal from the past, and that's not actually true," Munsell said. "These objects have histories that have traversed continents and centuries."
By featuring Townley's recreation of ancient pieces, Munsell said, she hopes the public will become more aware of the important processes the museum goes through to ensure it preserves all art for future generations.
"[This] work is incredibly valuable," she said. "It's also incredibly complex, and this exhibition is an opportunity to share those museum processes with our publics."