Fresh off a stifling win against the University of New Hampshire, the Boston University women's lacrosse team will travel to Annapolis, Maryland this Saturday to take on the United States Naval Academy.
The Terriers (7-6, 4-2 Patriot League) faced an early 2-0 deficit early in the first half against UNH (6-7), but were able to rally back and defeat the Wildcats in a 14-7 victory that featured goals by seven different BU players.
BU coach Liz Robertshaw said the decisive win adds a bit of confidence to the team, especially with only three games remaining in the regular season.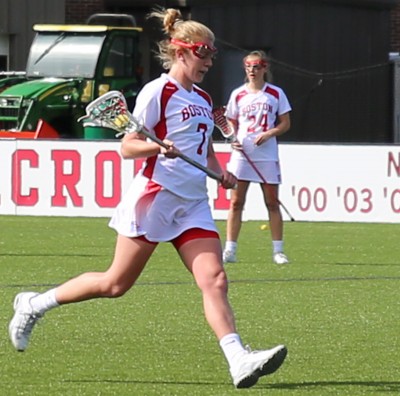 "It's definitely a confidence builder for our team," Robertshaw said. "We're feeling good coming off of a win, and it's always helpful going into the next game, but I also know that the team is very focused on a tough Navy team. Everyone, including the coaching staff and players, knows it's time to go back to work and get prepared for Navy."
With BU's non-conference slate now finished, Robertshaw's squad can turn its attention to its postseason aspirations. BU sits fourth in the Patriot League standings less than three weeks before the Patriot League Tournament begins.
"Being that they're all Patriot League games, it matters what's in the standings, since our goal is that we make it into the Patriot League Tournament," Robertshaw said. "We can now focus in and say that every game matters."
Navy (8-5, 3-2 Patriot League) has had a year full of ups and downs. Earlier in the season, the Midshipmen followed a three-game winning streak by dropping the next three contests. Now at 3-2 in Patriot League play, they trail the Terriers by just one win in the conference standings.
The Midshipmen most recently defeated Colgate University 15-10 this past Saturday. Navy midfielder Jenna Collins scored her team leading 30th goal and tallied her 39th point. Senior Katie Gallagher follows Collins with 20 goals and a team-leading 14 assists, two of which she tallied against the Raiders (4-8, 2-3 Patriot League). Gallagher and freshman midfielder Andie O'Sullivan, who tallied two goals and an assist this past Saturday, were named Patriot League Attacker and Rookie of the Week this week.
Navy's sophomore goalkeeper Ingrid Boyum has played the majority of the games this season, and boasts a save percentage of .452 with 89 saves on the year.
Robertshaw said she recognizes that certain aspects of the team's game plan need to be improved in order to contain Navy's potent offense.
"I think for us we need to continue working on possessing the ball," she said. "We also just want to sharpen up a bit of our [1-versus-1] offense and defense."
Robertshaw said the Terriers plan to make the most out of the game against the Midshipmen, and hope to put together their best efforts on both sides of the ball.
"Even though these next three games are guaranteed, we have to get into a sharper mindset that every game matters," Robertshaw said. "If we want to achieve some of the goals we've made as a team, we have to treat every single game like it could be our last and play our best lacrosse."