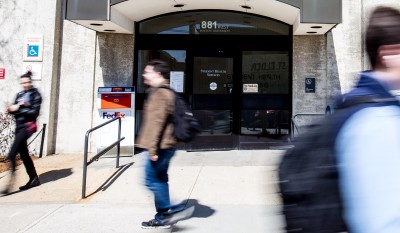 Out of 47 reports the Boston University Police Department responded to between April 5 and April 10 — which ranged from intoxicated students to a stolen backpack — six were related to attempted suicides or suicidal thoughts, according to reports provided by BUPD.
Suicide is the second-most common cause of death for 15- to 24-year- olds, according to data from the Centers for Disease Control and Prevention. The same age group is also more vulnerable to suicidal thoughts, especially if a suicide is publicized through the media, psychology professor Martha Tompson said.
Tompson said the trend of recent attempted suicides may be tied to the death of a College of Arts and Sciences freshmen who died at Kilachand Hall March 30.
"There certainly is evidence for a certain 'domino effect,'" Tompson said. "Although I don't really love that terminology, a publicized local suicide [or] the suicide of a celebrity do seem lead to a localized increase."
Victoria Pae, president of Active Minds at BU, said the university's handling of mental health issues may lead to an increase in suicide attempts.
Active Minds is a national nonprofit organization that focuses on changing the conversation surrounding mental health, and making sure "no one suffers alone in silence," according to their website.
Due to lack of therapists on BU's campus, some students have to wait up to three weeks for an appointment at Behavioral Medicine, said Pae, a senior in CAS.
"A lot things students cannot predict can happen in those three weeks," she said. "The fact that students are being turned away or have large wait times is definitely a factor in the increase of mental health crises that are happening on campus, especially this semester."
Regarding the recent tragedy on campus, Pae said that although the administration offered its condolences, the university didn't make any effort to change the number of therapists available to students.
"The university may or may not be listening to what we are saying," Pae said. "But they are definitely not doing anything to let us know that they are in the process and are making developments, which is the really concerning part."
Several BU students said they were surprised and concerned about the number of attempted suicides and medical assists BUPD had to handle on campus recently.
Jamie Garber, a junior in the Sargent College of Health and Rehabilitation Sciences, said she was shocked to hear that six students felt they could not reach out to other resources for help regarding their suicidal thoughts.
"It really scares me," Garber said. "Six sounded like a small number, but it is a serious situation. A close friend of mine lost her brother to suicide, so it's definitely in my heart. I'm [studying] therapy so I'm hoping to be able to support other students while I'm here."
Kayla Pichichero, a senior in the School of Hospitality Administration, said that the frequency of suicide attempts on campus surprised her, especially because she never heard of them before.
"It's insane to me that this is so under the radar," Pichichero said. "Suicide is something that isn't even spoken about. I'm sure a lot of people on campus, as well as myself, don't know that these suicide attempts are happening."
Emily Goldman, a senior in the College of Communication, called these suicide attempts "a wake-up call" for the university to address mental health issues seriously.
"[Students are] so used to BU sweeping things like this under the rug," she said. "It's shocking that it's taken so many extreme acts to get people's attention, and the administration, in my opinion, is not doing nearly enough."